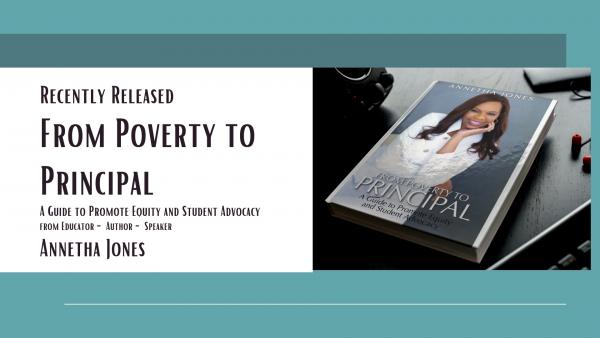 - September 30, 2021 /PressCable/ —
Annetha C. Jones – Newly-released book guides parents to take action so minority students succeed
Annetha Jones, author, lifelong educator, speaker, and internationally certified life coach, recently launched her new book, FROM POVERTY TO PRINCIPAL: A Guide to Promote Equity and Student Advocacy.
This newly released book is available on Amazon, Barnes & Noble, Target, and the author's website.
This educational guide for equity and student advocacy is expected to become a big hit with fans of the Educator Bios, Education, Teaching, Mentoring, Anti-Bullying, and Parental Self-Help genres.
More information on the book and author can be found here: https://www.amazon.com/dp/0578896672 or https://annethajones.com/
This is Jones's first published book with the primary focus of promoting equity and student advocacy. In her book, Jones provides students and parents with strategies to avoid common pitfalls and a competitive edge as they navigate the educational system.
There is a particular excitement about this launch because of the magnitude of the racial disparities that have plagued our nation for centuries. Our current climate reflects the need for the village to promote equity with more vigor and there is a definite thirst for change.
Jones has an extensive background in teaching and educational leadership which assisted in shaping her understanding of the system's inner workings. She has been privy to the inequalities faced by many students of color.
Readers will likely find a particular interest in the author who is a first-generation college graduate who overcame poverty to become the first and only African-American female principal of a high school in the southern district where she worked.
When asked about why she wrote the book, Jones stated: "I was compelled to write this book because as a child, I faced tremendous obstacles as a result of my race and lower socio-economic status. Because I received free lunch, I was placed in a math class that was far beneath my educational potential and therefore, I was forced to advocate for myself in order to be removed from that class. As a result of that experience, it became very important for me to promote equity and advocacy for all students, especially those with similar backgrounds."
Rocío Inclán, Senior Director of the National Education Association's Center for Social Justice, is aligned with Jones' philosophies.
"Public schools power our communities, but their strength depends on us addressing the systemic inequities that our students and communities face."
Since Jones is a novice in the arena of social media and marketing, a particular struggle was developing a promotion plan. She didn't understand the importance of marketing until after I had finished my book. Therefore, she recommends that new authors allocate time to preparing a promotion plan prior to completing the book
In a recent interview, the author made a point of thanking her family for their support and encouragement to include her husband Cletis, two children Jada and Marcus, her brother the Rev. Dr. Isaac Williams, Dorothy Holley and Dr. Stem Mahlatini." Additionally, Jones would like to thank her community for the wonderful support they have shown her at the release of her book.
Jones hopes that students, parents, and educators will use her book as a guide to promote equity and advocate for every child to reach their fullest educational potential.
During her career Annetha received many distinguished honors. She was selected as a Teacher of the Year, district Assistant Principal of the Year, nominated for Principal of the Year and served as keynote speaker on several platforms. Annetha also developed and implemented two mentoring programs which serviced more than 300 at-risk students as well as a no bullying program.
Annetha is a graduate of Florida A&M University and Nova Southeastern University. She holds a Specialist degree in Educational Leadership.
Annetha Jones is currently writing an anthology titled Women of Courage and is actively planning her second book. Annetha Jones is a passionate, positive, and outgoing engaging speaker who inspires others to pursue their dreams.
—She may be reached on LinkedIn. Those interested in learning more about the book can click here: Amazon or Barnes & Nobels
Or watch her brief video on Facebook
Rod Rudder: Cover Designer
Photographer: Photos by Tamara Knight
Release ID: 89047386