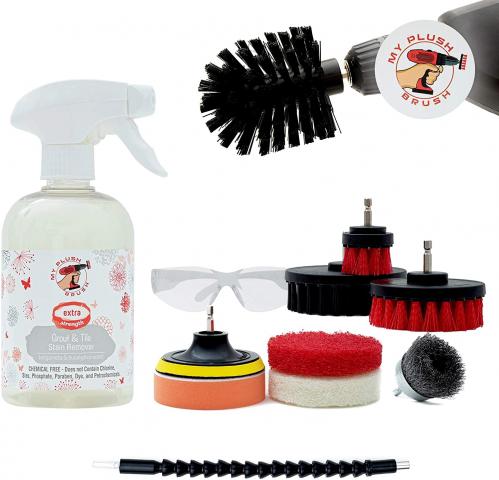 - June 2, 2020 /PressCable/ —
A new heavy duty drill brush kit has been launched by My Plush Brush, providing customers with all the tools and accessories every family needs. It's designed for all household, indoor and outdoor tasks and can be used to safely protect the customer and their family as well as the environment.
More information can be found at: https://www.amazon.com/Brush-Kit-Power-Scrubber-Detailing-Rims-Attachment/dp/B07SB43YTP/ref=sr/_1/_15?dchild=1&keywords=heavy+duty+drill+brush&qid=1590512498&sr=8-15
Items Included: 4 Cleaning Brushes, 4 Scrubber Sponge Set, 1 Metal Wire Brush, 500ml of All Natural Grout & Tile Stain Remover, Flexible Drill Extension Tool, & Safety Glasses.
The newly launched set comes with four cleaning brushes, four scrubber sponges, a metal wire brush, flexible drill extension tool, safety glasses, as well as an extra-strength bottle of tile stain remover.
It's intended for customers looking to clean shower tiles, carpet, brick, grout, kitchens, grills, bathroom, brick, cement, and all types of metal surfaces. In addition to this, it can be used for car detailing and rims.
Customers praise the brush kit for its wide range of accessories and the quality of the product. The twelve-piece set was designed to maximize quality over quantity to ensure customers get the best results.
It contains a combination of abrasive and soft products specifically designed to clean the toughest surfaces. Customers can use the brush safe in the knowledge that it won't harm or scratch the surface. This is especially beneficial for kitchen surfaces, tile, and flooring.
The extended accessory range includes all natural grout and tile stain remover, which allows customers to enhance the efficiency of their results. The metal wire brush can be used to remove flaking paint, rust, scratches and more.
Meanwhile there is a flexible drill extension tool that is 12 inches in length, helping customers to reach difficult areas. The safety glasses provide protection to ensure nothing harmful comes into contact with the user's eyes.
Customers explain that the quality of the product sets it above other similar items on the Amazon store.
A recent customer said: "Such a great value! There is literally a brush for every task and crevice you could imagine. They attach easily, and have lots of scrubbing power!"
Full details can be found on the URL above.
Release ID: 88959811