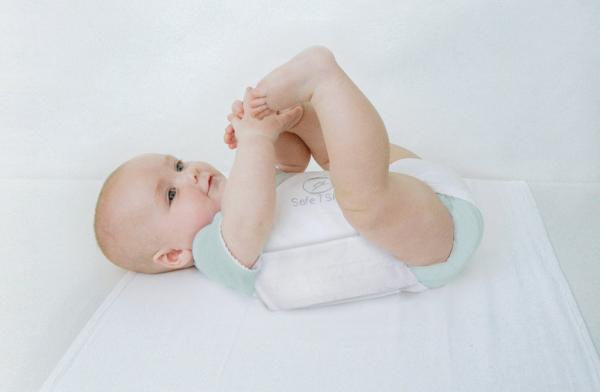 - December 2, 2021 /NewsNetwork/ —
The newly updated product, the Sleepwrap®, has been designed to help prevent baby sleep injuries, SIDS, and head deformities without restricting the infant's natural movement. It can be used from birth until the age of two.
More information is available at
https://www.safetsleep.com
The announcement comes in response to the approaching holiday season. New parents are usually concerned about their child's sleep safety during vacations, family gatherings, and overnight stays with friends. Portable bassinets and cots take up a lot of space, and it is not always convenient to bring them. The lightweight, portable Safe T Sleep Sleepwrap is a compact and practical item for helping babies and toddlers sleep in any place and situation. It is essentially a baby bed in a bag, as it can easily fit into a glove compartment, handbag or briefcase.
The Sleepwrap consists of two parts. One is secured around the mattress, the other one is wrapped around the baby's torso, helping them sleep in the safest position – on their back. At the same time, it does not restrict the natural movement of the infant's limbs and hips, ensuring healthy development.
The wrap is made of washable, breathable 100% cotton. With a TOG rating of only 0.27, it promotes comfortable, restful sleep all year round. It can also be used with all kinds of sleepwear, including swaddling wraps and baby sleeping bags.
The Sleepwrap can be easily used on planes, boats, RV's, motorhomes, in caravans, campervans and holiday cabins. The Large size wrap is the most convenient option for travel due to its versatility. It can be used with portable cots and bassinets, or even as an alternative to one altogether. It can also be attached to mattresses of different sizes, including king and queen-size beds. The Mini size, designed for newborns and babies up to six months old, is the best choice for an aeroplane bassinet. Learn more at
https://www.safetsleep.com/collections/sleepwrap-baby-wraps/products/sleepwrap-baby-wrap-large-travel?variant=335485460
"The Safe T Sleep performed very well on the boat and was attached to Anna's bunk which is head-high on me," said a satisfied customer. "The real test came on a trip back from Waiheke in very rolling seas which were uncomfortable for me to stand up and Anna slept safely cuddled in her Safe T Sleep for two hours."
The Sleepwrap is a budget-friendly and travel-friendly item for parents of twins and multiples, as it gives them the opportunity to position their babies next to each other safely and comfortably, without having to bring two portable cots. The Safe T Sleep website features a demonstration of how the wrap can be used with twins.
One mother of twins said: "Thanks Safe T Sleep for helping us have the sleep-filled holiday we were dreaming of with our twins on our 3 week caravan holiday!"
The Sleepwrap was invented in 1976 by Miriam Rutherford-van Gisbergen, a mother and nurse. She wanted to create a swaddle that would prevent her 10-month-old son from climbing out of his cot without restraining him. Since then, this innovative wrap has helped hundreds of thousands of babies sleep safely, with a 100% safety record.
The company offers free shipping worldwide, which allows parents all over the world to have peace of mind, knowing their baby is safe and comfortable.
Interested parties can find more information by visiting
https://www.safetsleep.com
Release ID: 89055388