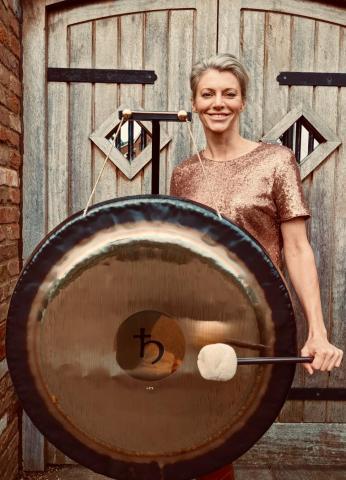 - January 18, 2020 /PressCable/ —
West London Gong Bath specialist, Nicole Harvey, Founder of Have Your Magic, is delighted to announce a series of monthly de-stressing and restorative Gong Bath relaxation events in Kensal Rise. The Gong Bath series will begin in January 2020 and the first date as been confirmed as Sunday 19th January, from 5:15pm – 6:15pm. The February date has also been confirmed as Sunday 9th February, from 5:15pm – 6:15pm. The venue is The Yard at Gracelands, Kensal Green, NW10.
The Gong Bath is increasingly popular in London and it is easy to understand why. While it is an ancient form of healing, because it makes it easy to relax the busy mind and drift off into deeper consciousness amid a landscape of beautiful sounds, it's perfect for modern Londoners with their frenetic and busy lifestyles.
These West London Gong Bath sessions, just a few minutes walk from Kensal Rise, will be suitable for those new to sound therapy or sound healing as well as those who have previous experience. The monthly sessions will offer a magical mix of Gong, Crystal Singing Bowl, Chimes, Tuning Forks and Channelled Voice. What is more, these sound therapies have been scientifically proven to relax and soothe.
The sessions will be led by Have Your Magic Founder, Nicole Harvey. Now a local and new to The Yard at Gracelands she is delighted to be offering Wellbeing Events, Stress Coping Tools, Healing and Hypnotherapy 1-2-1 to help clients to shine; Inner Child Healing, PTSD clearing and Energetic Facelift Treats.
Speaking about the Kensal Rise Monthly Gong Bath Sunday series specifically, Nicole Harvey explains, "The sessions will be ideal for anyone in West London. They are a perfect wind down to tune out from mind chatter and London's hectic lifestyle and bliss out and the end of the weekend."
Joanna, an attendee of one of Nicole Harvey's recent sound healing events commented, "Nicole is a gifted and sincere healer who can take the client through the full journey to find and release the blocks and patterns stopping someone living their true potential. She made me feel very safe and relaxed as we worked on clearing old hurts; her intuition is spot on. Her work is almost like 'fast track therapy' her gong baths are the best de-stresser around. One walks on air afterwards."
Nicole's events are also increasingly popular with celebrities and businesses who now book Gong Baths as part of corporate events, pamper parties and at home birthday experiences. Previous wellbeing events by Have Your Magic include: Soho House, Getahead Festival and BBC Radio London.
Mats and blankets will be available. £15 Entry and £12 Concession entry. Places are limited so anyone interested in attending the restorative West London Gong Bath sessions at The Yard at Gracelands should book in advance using this Gong Bath Booking Link.
Those attending will receive good vibrations – proven to calm the body, improve blood quality and boost the immune system! A perfect way to soothe mind, body and soul, promoting sound sleep amid the heightened energies around the full moon.
For more information about Nicole Harvey, Have Your Magic and future sound healing and restorative events visit: https://www.haveyourmagic.com/
Release ID: 88943230