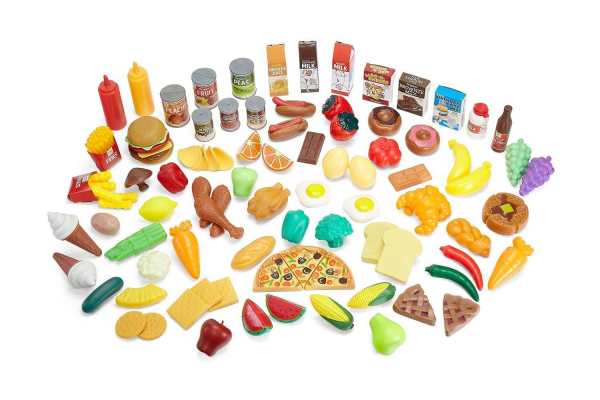 - January 25, 2017 /PressCable/ —
Mommy Please, the maker of the top selling play food set on Amazon.com, announced today that a new website is in development for their food set. The statement was made by company spokesperson Elsie Murphy.
"We love the excitement that our customers feel for our play food set, They have left us almost 350 reviews, sent us numerous messages and pictures about how much they like our product. We want to have a central place where they can share these things. Our website will feature a section where customers can share their experience with the Mommy Please play food set. It will also contain areas that have the various game and instructional information that has been created to accompany the food set," said Anderson.
Recently, the Mommy Please toy food was listed as the best-selling play food on Amazon.com. The 125 piece play food set is in countless households and play areas, bringing joy and creative play for children everywhere. The food is made of durable plastic that is BPA free and made for children ages 3 and older and offers 125 unique foods from 4 different food groups. The set contains food choices such as pie, pizza, pancakes, donuts and candy bar, while also including healthier choices such as broccoli, asparagus, carrots, grapes, apples, pears, and bananas. This large variety of foods helps teach children about healthy and unhealthy foods and helps them to think about food choices and how to make healthier decisions about eating right.
Customers are happy with the Mommy Please toy food set. An Amazon.com customer Chrissy writes "There are so many great reviews on this product that I agree with… fun for kids, has a nice variety, perfect size for little hands, enough pieces, so kids won't have to fight over sharing (as much). One thing I didn't notice anyone posting was on the boxed food. They cracked me up! Almost every piece has Nutrition Facts and a Fun Fact! For example, a fun fact on the milk is No two cows have the same pattern or spots. A can of peaches boasts 68 calories, plus Vitamin C for Healthy Days and Vitamin A for Shiny Hair! Plus, a peach is a member of the rose family! Nutrition Facts on a can of olives is 20 calories plus Vitamin E for Clean Skin and Eyes! Having these facts on the boxes was unexpected but a very fun touch, although I think it is mostly for parents, but can definitely be used for older children who are always questioning how "healthy" their food is." Children enjoy "cooking' for their parents, and parents enjoy the colorful play food that helps teach their children. Out of almost 350 reviews on Amazon.com, 99% of them say they like the 125 piece toy food set, and the average rating is 4.8 out of 5 stars. Now Mommy Please turns to these same customers for feedback on the "About Us" statement, as customer response will determine this update.
The Mommy Please play food set is sold exclusively on Amazon.com. Free shipping is available on all orders over $49.
About Mommy Please: "Mommy Please has worked tirelessly to bring children a play set that will never cease to keep their imaginations going. We strive to ensure that happiness, education, and creativity are all incorporated into play time every single day. As a company that focuses on family values, Mommy Please intends to influence the lives of families around the world."
Release ID: 164318