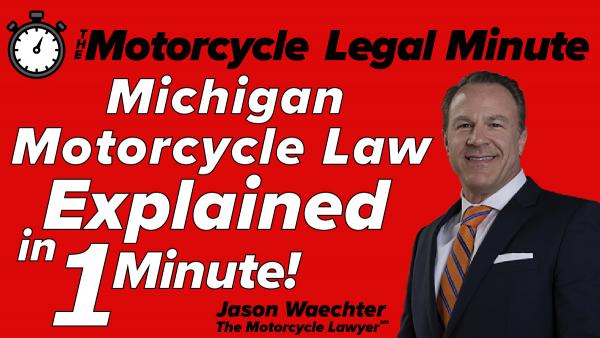 - March 31, 2021 /PressCable/ —
People in the Michigan motorcycle community, will be lucky and happy to find a new informational video series called, The Motorcycle Legal Minute by nationally known motorcycle lawyer, Jason Waechter.
This video series features 52 one minute videos that explain Michigan motorcycle law, Michigan's no-fault law and the ins-and-outs of Michigan motorcycle insurance. .
Some of the titles included: 3 Claims After a Motorcycle Crash; You Can Sue a Deer?!; What if the Police Report Faults You? and Road Defect Motorcycle Crashes.
The videos can be viewed at this link: https://www.motorcyclelawyermichigan.com/The-Motorcycle-Legal-Minute.
Author of The Motorcycle Legal Minute, Jason Waechter says "We have received a ton of positive feedback. People like these videos because they are short and explain the law in an easy to understand way. They are even entertaining."
The video series is broken down into four major categories. Videos having to do with: Motorcycle Injury Accidents, Motorcycle & No-Fault Insurance, Michigan Motorcycle Law, and Motorcycle Lawsuits & Cases.
In the Motorcycle Injury Accident section you will find: Time Limits for Accident Claims, Wrongful Death Cases, Road Defect Crashes, Sing the Drunk Driver, Damages, Hit & Run Cases and more.
In the Motorcycle & No-Fault Insurance section you will find: How Your Car Insurance Affects your Cycle Wreck, MCCA- What Is It?, No-Fault Law: PIP Medical Choice, Broad is Not a Bad Word, How to Recover Double, Shafted- Bikers Don't Always get No-Fault Benefits, and more.
In the Michigan Motorcycle Law section, you will find: Shafted-Mini Tort, 3 Wheeled Motorcycle Law, Helmet Law Requirements, Learner's Permit, Moped or Motorcycle?, What is an Autocycle? Urban Myths and more.
And in the Motorcycle Lawsuit & Cases section, there is: No Helmet=Negligent?, Yes You Can Ride Side-by-Side, Inattentional Blindness, Are Motorcycles Hard to See?, and How Facebook can Kill Your Case.
Attorney Waechter is rare in that he has a video studio right in his office complete with green screen, a state-of-the-art lighting package, Hollywood-grade sound equipment and a 4K digital video camera. "This allows us to quickly create and publish current content that affect Michigan motorcyclists and our clients. We even do live Q & A sessions", said Waechter.
No matter where you live or ride, there are many videos that are relevant and helpful. So when you are surfing the internet, this is something to definitely check out.
More information on The Motorcycle Legal Minute can be found at https://www.motorcyclelawyermichigan.com/The-Motorcycle-Legal-Minute.
Release ID: 89003229