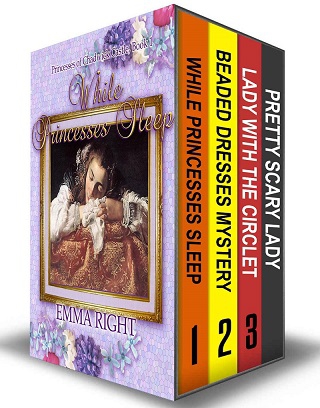 - January 26, 2016 /PressCable/ —
The last 90 days alone saw an addition of over 307,000 new books on Kindle. As competition stiffens, with the list of both free and paid ebooks available on Amazon ever lengthening, more Indie authors have looked for ways to reach their audience. One tactic appeared to have benefitted both Indie authors and readers.
With most books selling between 99c and $9. 99 on Amazon's Kindle platform, indie authors have turned to bundling their books in a number of ways.
When a book's price is between 99c and 1.99 authors only make a 35% royalty from Amazon. That's getting 35 cents for a full length novel that might have taken a whole year to write and edit. If each book in a series is priced at 99c it makes more sense to bundle four books and charge $3.99. This would allow the author to at least get the 75% royalty scheme Kindle Direct Publishing (Amazons KDP) pays out .
The Princesses if Chadwick Castle series by Emma Right is such an example. She recently bundled the series into two sets: Set 1 for Books 1-4, and Set 2 for Books 5-8. This is an attempt to incentivize readers in the competitive children's books market on Amazon and Kindle.
In an interview, Ms. Right, a children's and young adult author said, "Book bundling provides the consumers a chance to try out an author's new series at a reduced rate. Many self-published authors have also bundled their books to give readers a chance to benefit from a starter library with a particular author, a sampling of sorts."
Unlike the Princesses of Chadwick Castle four-book bundle which feature books from the same series some authors have also packaged books they have written from different genres in the hopes of exposing readers to their varied writings. As the competition for books sales heighten it would be interesting to see what new strategies creative authors will use to reach new readers.
In all, the competition in the Amazon book industry has been a boon to readers who not only have gained more choices but at a deep discount, too. As to whether Indie authors will come up ahead with this tactic to overcome the stiff competition, remains to be seen.
About the author:
Emma Right is a multiple award winning author with best-selling children's fiction. Ms. Right's Princess fiction, likened to Downton Abbey for girls, are for ages 6-11. For more information about children and young adult author, Emma Right, please visit the website:emmaright.com.
Release ID: 101356