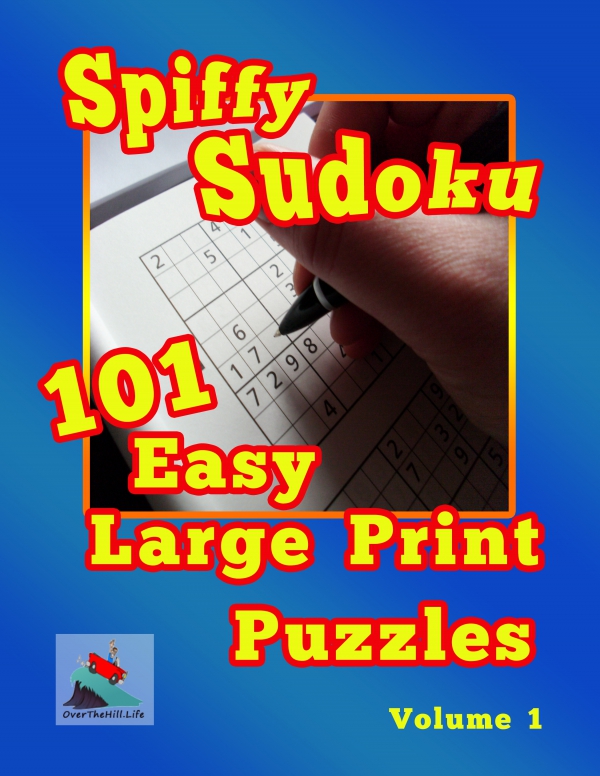 - October 20, 2016 /PressCable/ —
Puzzle enthusiast Gary Meier is launching his brand new book, "Spiffy Sudoku". The book is set to go live October 20, 2016, available from OverTheHill.Life and is expected to become a big hit with fans of the Puzzle lovers world.
More information on the book can be found here: http://OverTheHill.Life
The book was written with the aim in mind to provide mental exercise for the over 50 crowd. From WebMD.com, "A recent study shows that increased participation in activities that stimulate the brain may delay onset of dementia-related memory decline in older seniors." There's particular excitement about this launch, people who have difficulty seeing or writing can still solve these puzzles.
Spiffy Sudoku has one puzzle on each page. The Sudoku grid fills the entire page and has large, easy to see numbers. The Author said "Some people like to write all the possible numbers in the open boxes. The large amount of space allows plenty of room for this without needing to erase the possibles."
When asked about why he wrote the book, Meier said: "Never completed all the puzzles in a puzzle book because they were too hard or just awkward to fill in. This book has only easy Sudoku puzzles."
Gary Meier has been solving puzzles for many years. This helped shaped the creation of the book Inspired by the many people who enjoy solving puzzles.
Meier has hopes that the book will be help for senior citizens to remain mentally active.
From a Newsmax article Jan 8, 2014.
"A study on 294 adults ages 55 and older was published in the journal Neurology. This suggested that frequent cognitive activities could help in slowing down declining cognitive abilities. Brain stimulating activities like playing brain games can improve connections between brain cells. This can help generate new nerve cells. Crossword puzzles, chess, and games such as Sudoku are some brain games that can help prevent Alzheimer's."
Meier also added "The large easy puzzles are perfect for anyone who has wondered what Sudoku is all about. but has not yet tried it."
Spiffy Sudoku is an EBook available for immediate download.
Those interested in learning more about the book can visit here: http://OverTheHill.Life
Release ID: 138801