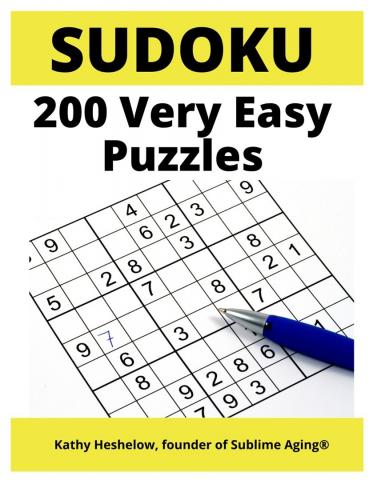 - October 20, 2020 /PressCable/ —
What can keep the mind younger and sharper as we age? Doing puzzles like Sudoku and crossword games.
Sublime Aging® has now published the first four Sudoku puzzle books on Amazon, from the starter level of Very Easy through Advanced levels. All of the workbooks are 8 1/2 X 11, a great size that is easy to use, with 4 puzzles per page.
In a study of 19,000 people (published in the International Journal of Geriatric Psychiatry), those who did puzzles had brain function equivalent to 10 years younger than their age. For short-term memory tests, puzzle takers had brain function equivalent to eight years younger.
"Sudoku is a very friendly kind of puzzle," says Thomas Snyder, PhD in "Everyday Health". He is a U.S. and world sudoku champion. "You don't have to come to it with any sort of knowledge beforehand — it's not like a crossword where you have to know trivia." And, you are sparking your brain to do something new.
Sudoku rules are easy – you simply fill each empty square with a number (1 through 9). They cannot repeat down a column or across a row, or within an individual box of 9 squares.
For those new to Sudoku, start with the very easy level to get the hang of it. The Sublime Aging® Sudoku books have the solutions at the back of the book, in case you get stuck or want to check your work.
Kathy Heshelow, best selling author and founder of Sublime Aging®, is behind the books. "The subject of aging well – mind body & spirit – is near and dear to me. We all know we can eat well, exercise, use skin creams and such to age well. But I wanted to be sure we addressed an important aspect of aging – the mind."
Heshelow says Sudoku brain games can possibly:
Boost logical thinking
Slow Alzheimer's disease
Help develop quick-thinking skills
Improve concentration
Reduces anxiety, and more!
Heshelow's focus on mind development books ranges from workbooks for kids (under Kat's Classes Workbooks) to keeping older minds sharp (under Sublime Aging®). She worked in education for 12 years, and is a best selling author of a number of wellness books.
The Sudoku books are available on Amazon now, and Heshelow has added some adult coloring books as well. She plans to add other adult activity workbooks this year.
Release ID: 88981354