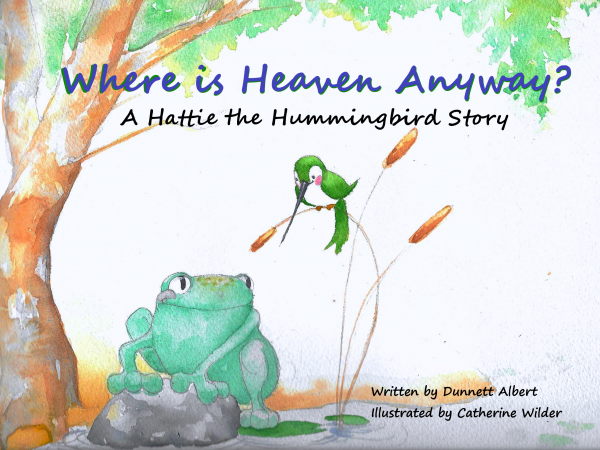 - March 8, 2016 /PressCable/ —
Spiritual minstrel Dunnett Albert is launching her brand new book, "Where is Heaven Anyway? : A Hattie the Hummingbird Story". The book is set to go live in all formats March 9, 2016, available through Amazon online and is expected to become a big hit with fans of the Grief and Loss, Spirituality, Hummingbirds, Frogs, and Children's world.
More information on the book can be found here: http://www.hattiethehummingbird.com
This is the first book Albert has authored and released publicly. The book was written with the aim in mind to help people of all ages understand that loved ones never truly leave each other. There's also particular excitement about this launch because it is the first in a series of spiritually open-minded children's books surrounding the main character Hattie the Hummingbird, to help children and people of all ages become more beautifully conscious of everyone and nature around them.
Where is Heaven Anyway? A Hattie the Hummingbird Story, sets its main focus on Hattie the Hummingbird and the loss of her dear friend Auggie the Frog. Readers will likely find a particular interest in Hattie as she discovers the true location of Heaven through her sweet and curious nature. The book's cover art and illustrations were created by Catherine Wilder. Where is Heaven Anyway? A Hattie the Hummingbird Story is being released by independent publishing through Amazon.
Dunnett Albert has a background in spiritual development and life after loss of a loved one. This helped shaped the creation of the book by inspiring her to help more of the world understand the true location of Heaven, and the passing of all loved ones.
When asked about why they wrote the book, Albert said: "It was a soul-stirring message I felt compelled to write and share with the world. It is a story of love and comfort for all who, like myself, miss someone very dear to them every single day."
Albert has hopes that the book will comfort people of all ages, and give parents an easy-to-understand tool to teach their children the concept of where "Heaven" is. This positive outlook from the author is certainly testament to their optimism considering some of the mishaps during its creation. At one point despite being a great author, Dunnett realized her lack of artistry when she attempted to illustrate the book herself, thankfully Catherine Wilder lent her beautiful imagination and artistic skill to help Hattie come to life for all to visually enjoy.
In a recent interview, the author made a point of thanking her family for their part in the creation of the book, saying: "to my parents, who have always encouraged me to see the world beyond what my eyes and brain could comprehend, and feel their love all around me from any distance."
Those interested in learning more about the book can visit here: http://www.hattiethehummingbird.com
Release ID: 106265