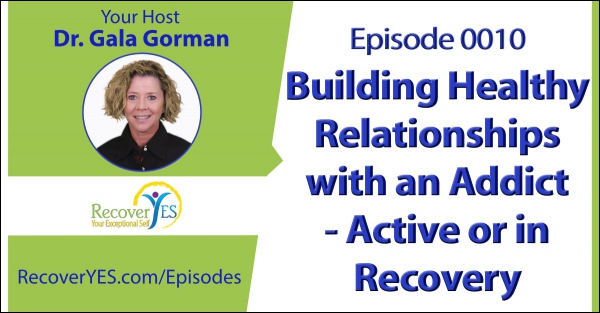 - February 16, 2017 /PressCable/ —
In this episode of Recovery ReLOVution, Dr. Gala Gorman, the show's host, shows listeners how to communicate shamelessly with addicted loved ones. Using shame to motivate addicts won't work. In fact, it will probably backfire, fueling addiction.
As Gorman explains, "If you use shame to try to motivate your loved one to make a change, it's going to backfire. Are you wondering if you are shaming the addict? There's a good chances you are. It's difficult not to when faced with the crazy thoughtless behavior that accompanies addiction. Still … it isn't helping. Most of us grew up believing that shame would motivate someone to change. Unfortunately, it doesn't work that way. In fact, it just fuels addiction … just the thing you're hoping to stop. We need to take a different approach."
In this episode, listeners will:
– Communicate shamelessly with addicted loved ones
– Motivate the addict the RIGHT way
– Learn what to do when angry or disappointed
When living with an addict or in a close relationship with an addict, it is nearly impossible to avoid shaming them. It is really common to use shaming language when dealing with the addict. Because, honestly, their behavior is shameful. But, what happens is the shame actually just confirms what the addict is already telling themselves … that they're no good. They're a loser. They deserve everything that they're getting.
As Gorman says, it's important to take care of oneself first, which is really hard for recovery stakeholders because codependence sort of goes hand-in-hand with being a stakeholder. It's important not to accept being bullied from the addict. And, not bullying the addict … even if it is in return for being bullied. Rather, it's important to know what is and what isn't okay. And, it's different for everyone.
The Recovery ReLOVution show was created with the aim in mind to help family and friends of addicts restore peace and sanity to their world. Listeners now have an alternative to doing the same thing expecting a different result … the definition of insanity.
The show urges listeners to stretch themselves. The show's tagline reflects this. Love the Addict. Outsmart the Addiction. Listeners, primarily Recovery Stakeholders, will likely find a particular interest since it's difficult to avoid shaming their addict loved one.
When asked why she created the show, Gorman said, "Shaming just adds fuel to addiction's fire. There is an alternative."
The show's host, Dr. Gala Gorman, is a holistic life coach and minister. She is the author of the Spiritual ApproachTM Series of books focused on practical spirituality. As an entrepreneur … mediator, publisher and, formerly, accounting firm partner, her experiences helped shape the creation of the show. As a change facilitator, she ignites transformation in businesses, families, students, clients and, especially, within herself.
Gorman has hopes that the show will help Recovery Stakeholders learn to set and hold effective boundaries to ignite positive change … in themselves and their loved one who is struggling with addiction.
Those interested in learning more about the show can visit here: RecoverYES.com/Episodes
Release ID: 170290