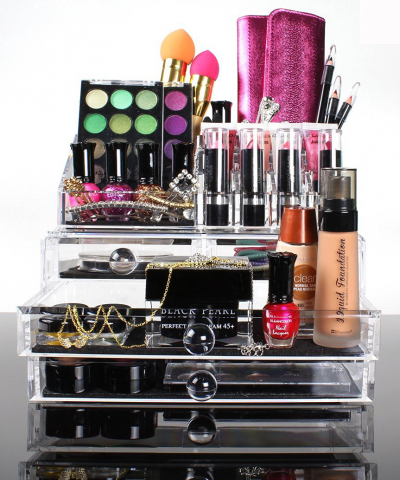 - January 26, 2017 /PressCable/ —
It has been nearly two years since Cosmopolitan Collection launched their top-selling makeup organizer. Since that time, sales and demand for the organizer have continued to increase. Cosmopolitan Collection has decided to now rest on this past success, and has set even more aggressive sales goals for 2017.
"We are very grateful for our loyal customer base and the success we have seen thus far," said Rob Bowser, company spokesman for Cosmopolitan Collection. "We have received some fantastic customer feedback and review, in addition to great sales. For 2017, our goal is to again increase the sales of our makeup organizer. We have some great ideas that we are excited to roll out, and can't wait to reach new sales records again this year."
Made of a durable, clear acrylic, Cosmopolitan Collection's makeup organizer is two separate pieces that can be stacked or separated, allowing for a larger variety of uses. Features include drawers with round handles and 20 different storage spaces for many different items.
Satisfied customer Bobby H. wrote a glowing review of the organizer, "This is one of the best organizers I've used. The product arrived nicely packaged. Easy to give as a gift. I've wanted one of these for awhile and am happy to have received this one. The size is perfect. It's able to hold a lot of items without taking up much space. I love how the drawers are clear, making it easy to know where things are at quickly. I can see this being used for crafts, sewing items and lots of other ideas. For me, this has made a huge difference in organizing my daily makeup and hair needs. I'm already considering purchasing another one for my other bathroom."
The Cosmopolitan Collection acrylic makeup organizer has nearly 200 reviews on Amazon.com, with the average review rating a 4.5 out of 5 stars. 98% of customers have said they are satisfied with their purchase. Cosmopolitan Collection strives for customer satisfaction, and anyone not completely satisfied with their purchase can return it for a full refund.
The makeup organizer is sold exclusively on Amazon.com, and is currently priced at $42.99. Free shipping is available on any Amazon Prime order, or all orders over $49.
About Cosmopolitan Collection: "As an honest and ethical company, Cosmopolitan Collection focuses all energy, resources, and effort to organizing the world in a beautiful way. By creating a single, acrylic makeup organizer, Cosmopolitan Collection works to improve the world by bringing the best quality makeup organizer in the world to market so that all men and women can use and enjoy the product at a reasonable price."
Release ID: 164667