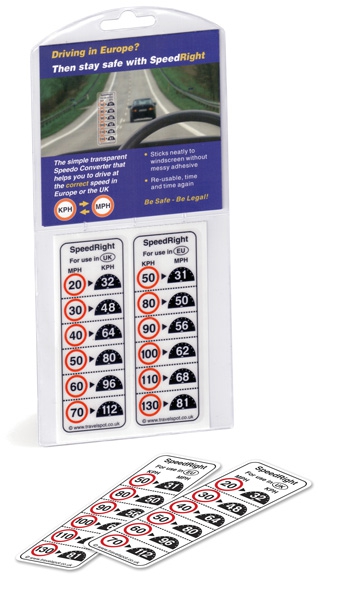 - September 1, 2016 /PressCable/ —
With millions of UK and European motorists 'swopping' countries for their annual summer holidays, one of the challenges is adjusting to speed limits that are now in KPH instead of MPH and vice versa.
With European Police Forces well known for their powers to 'impose' on the spot fines, this is particularly important for UK drivers. The mathematical calculation of divide KPH by 8, and then multiply by 5 to give you MPH, is well known but not so simple to do when driving at speed in busy holiday traffic on the wrong side of the road!
Whilst some car manufacturers try to help out by including the KPH figures on the UK speedos, these are shown as much smaller numbers, in orange colour in the centre of the speedo – making them impossible for anybody to read, other than those young enough to still have perfect eyesight!
This has resulted in some ingenious home solutions including numbered stickers, or coloured lines added to speedos to denote the 'key' KPH speed limits.
However, a novel solution called SpeedRight is now available for all drivers. Featuring a twin pack of MPH-KPH and KPH-MPH conversion chart which is suitable for both UK and European drivers. The charts have been cleverly designed with two columns – the left hand one shown as speed limit ' symbols' with all of the important limits in KPH, and the right hand one as speedo symbols with the equivalent MPH number shown for driving in Europe and vice versa for MPH to KPH for driving in the UK. This gives drivers an instinctive visual assimilation and allows them to adjust their speeds without being distracted from the road.
SpeedRight is made from a self-cling vinyl, so it leaves no glue residue and is placed on the edge of the windscreen so it is easily seen, but does not block the driver's vision, giving peace of mind from European speed traps!
Release ID: 130569