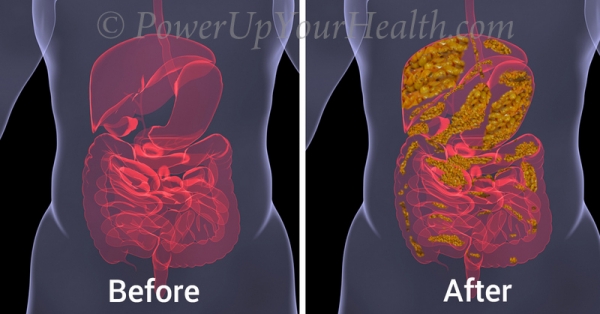 - July 13, 2015 /PressCable/ —
Kalamazoo, MI – According to a recent study conducted by the Cancer Research UK and reported in the July 2015 issue of the International Journal of Obesity, teenagers who are overweight and obese don't think they have a weight problem.
Obesity isn't just a cosmetic issue, there are many serious health concerns associated with it. Most notably metabolic syndrome – which can lead to diabetes, cardiovascular disease, and cancer.
At the heart of the problem is visceral fat. This is the fat in, and around, the organs of the digestive system.
Under normal conditions, visceral fat provides a protective layer between your organs. But overgrowth of visceral fat can engulf – and even enter – the organs of the digestive system…compromising the body's ability to properly metabolize fat.
This visceral fat is a major contributor to weight gain – and the accumulation of belly fat.
A new tool is being released to the public after 18 months of testing. It's called the Invisible Fat Calculator. The tool was developed by health and fitness expert Ed Forteau. Forteau is a health and wellness advocate, and the host of Power Up Your Health on the CBS Sports Radio Network.
"The Invisible Fat Calculator was designed to help parents and teenagers determine the amount of visceral fat they have," said Forteau. "Having high levels of visceral fat is a major risk factor in metabolic syndrome. It is estimated that 25% of the population has metabolic syndrome…and a high percentage of them don't even know it."
Forteau went on to say, "Metabolic syndrome isn't something that only affects people who are obese. Even teens who appear fit have metabolic syndrome, because they are carrying unhealthy levels of visceral fat. This condition is called skinny fat. This tool will help everyone identify their risk, so they can address it before becomes a serious concern for the rest of their lives."
The calculator is an Excel-based program that is easy to use. A person enters their weight and takes a few measurements. The Invisible Fat Calculator then computes an Invisible Fat Score. Based on the score, people will know if their visceral fat is too high, too low, or in the normal range.
The tool also comes with an Invisible Fat Reduction Fact Sheet, which is a 7-page report detailing specific recommendations to reduce visceral fat.
"Most of the information out there on reducing visceral fat focuses on targeted exercises, like sit ups and stomach crunches. Those exercises will strengthen the stomach muscles, but do little to nothing to reduce visceral fat, which lies beneath the muscles of the stomach," notes Forteau. "The Invisible Fat Reduction Fact Sheet focuses mainly on nutritional options that have been proven to reduce visceral fat. It also includes some exercise recommendations that have also been proven to be effective."
To learn more about the Invisible Fat Calculator, visceral fat, and the role visceral fat plays in obesity, visit http://www.powerupyourhealth.com/invisible-fat-calculator/
Release ID: 86433