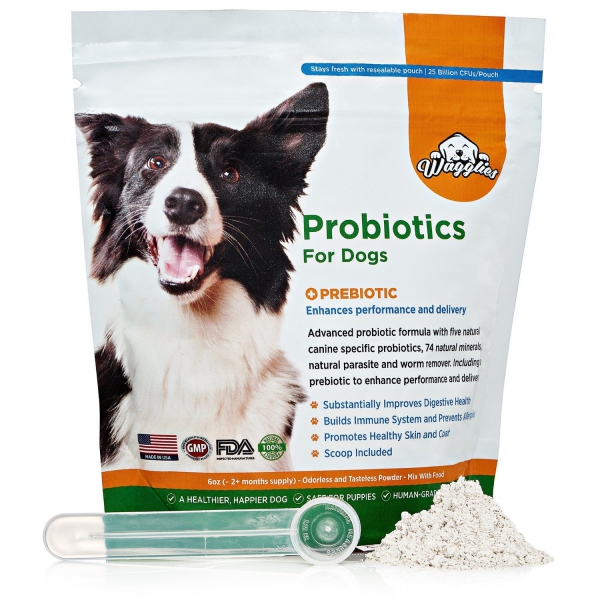 - June 15, 2016 /PressCable/ —
After a high profile launch onto Amazon USA in April, Wagglies' Probiotics for Dogs are rapidly approaching their third month on sale on the international marketplace.
Since launching, the brand have received a flurry of feedback from customers, the majority of which has been positive and constructive, "Big fan of these probiotics…my new rescue pup has had tummy issues since we picked her up and I just want her to feel better. I don't always remember, but when I have been consistent, it really does improve the health of her tummy…The serving size is very small and definitely easy to mix with her food."
Wagglies' new dog product, Probiotics for Dogs, was developed throughout 2015, allowing the brand to thoroughly examine their market before launching the product onto Amazon. The brand chose to include an added prebiotic, to enhance the effectiveness of the powder probiotic mix.
"We are really pleased to be reaching our third month on sale on Amazon USA." said Dan Clayton, Founder of Wagglies, "It's taken us a long time to develop our product so it's really reassuring that our new dog probiotics have gone down so well with customers."
Each bag of Wagglies' Probiotics for Dogs contains 74 trace minerals, 25 billion CFUs, 5 strains of probiotic and 1 prebiotic. Each batch is made in the USA in a GMP and FDA approved lab, to allow the brand to strictly control quality.
"We hope that we will be able to maintain the success that we have seen over the last few weeks as we enter our second quarter on Amazon." continued Dan, "The feedback that we have received from customers has allowed us to refine both our product and our customer service processes."
Previous successful products by Wagglies include Puppy Training Pads and Dog Nail Clippers. Wagglies' Dog Nail Clippers are still available from Amazon UK and USA.
Wagglies Probiotics for Dogs are now available in a 6oz bag (∼ 2+ months supply) from Amazon USA: http://www.amazon.com/Wagglies-Probiotics-Dogs-Pre…
Release ID: 118775