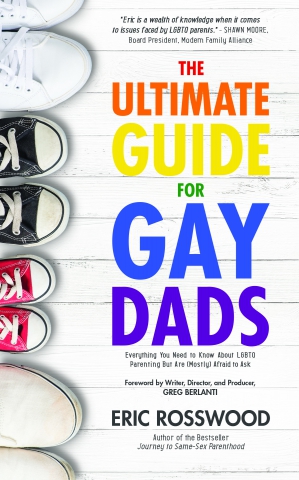 - October 20, 2017 /PressCable/ —
Miami, October 19, 2017— Award-Winning and bestselling author, Eric Rosswood, is releasing a new book that offers a modern twist to the typical parenting titles found in bookstores. The Ultimate Guide for Gay Dads covers all the essential things that other parenting books do, but removes the pieces that focus on mothers and replaces them with information relevant to gay dads.
Examples of key topics in The Ultimate Guide for Gay Dads include parental leave for men when it comes to adoption and surrogacy, birth certificate issues, the nuances of traveling as a family with same-sex parents, how to find LGBT-friendly pediatricians, how to find LGBT-friendly schools, legal steps to protect your family, what to do on Mother's Day, conversations that gay dads have with their kids that straight parents don't typically have with theirs, and much more. It also includes tips, tricks, and hacks from pediatricians, school educators, lawyers, and tons of other gay parents.
"While 'straight parenting' and 'gay parenting' are the same," explained Rosswood, "being a gay dad is different and has its own set of unique challenges. "We do all the same things that straight parents do, like change baby diapers, feed our kids, help them with their homework, read them stories, take care of them when they're sick, etc., but there are many situations that are unique to LGBT parents. I couldn't find any other books that helped gay dads through those scenarios, and that's why I decided to write The Ultimate Guide for Gay Dads."
Early reviews for the book have been positive. Shawn Moore, Board Member for the Modern Family Alliance said, "Eric is a wealth of knowledge when it comes to gay parenting," and Stan J. Sloan, CEO for The Family Equality Council, said "This is the parenting book gay dads have been waiting for!"
The Ultimate Guide for Gay Dads includes a foreword by Golden Globe nominated writer, director, and producer, Greg Berlanti, best known for his work as executive producer and co-creator of The CW's Arrow, The Flash, Legends of Tomorrow, and Supergirl. The book comes out on October 24 and will be available on Amazon, Barnes & Noble, and wherever books are sold.
For more information about The Ultimate Guide for Gay Dads, or any of Rosswood's other books, visit www.EricRosswood.com.
About Eric Rosswood
Eric Rosswood is an in-demand authority and commentator on LGBTQ issues including civil rights, parenting, marriage, and politics. He is a major influencer on social media with over 100,000 followers on Twitter alone, and he has led panels on LGBTQ parenting issues for organizations such as the Family Equality Council and the Modern Family Alliance. His bestselling book, Journey to Same-Sex Parenthood, won the Gold Medal for Best Parenting Book in the 2017 Readers' Favorite International Book Award Contest. Rosswood resides in New York with his husband, son, their two cats, and a dog named Mr. Buggles.
Twitter: https://twitter.com/LGBT_Activist
Instagram: https://www.instagram.com/ericrosswood
Release ID: 252869