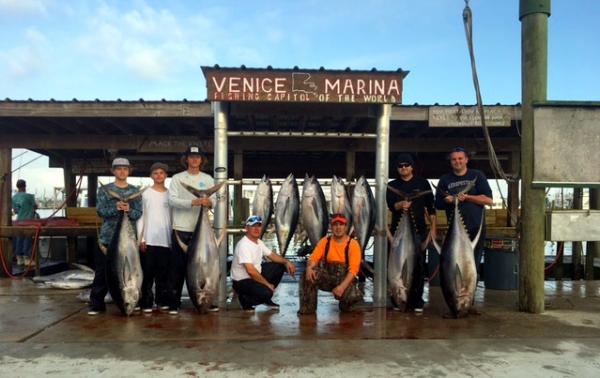 - June 16, 2017 /PressCable/ —
Louisiana Offshore Fishing Charters, a fishing charter company located in Venice, Louisiana, launched a new website allowing interested fishermen from across the country to book an offshore fishing trip on one of their fully-equipped charter boats. Led by experienced captain Troy Wetzel, Louisiana Offshore Fishing Charters provides daily and overnight charters for clients looking to catch yellowfin tuna, blackfin tuna, marlin, Mako sharks and many other species.
More information on the new website and online booking platform can be found at: http://www.captaintroywetzel.com/fishing-charters
Charter fishing is one of the most popular forms of recreational fishing, offering the opportunity to catch trophy species under the guidance of experienced fishermen. Venice, Louisiana is a popular launch site for many searching for New Orleans fishing charters. Many prefer it for the ease of access to the huge fishing supply of the Gulf of Mexico.
Louisiana Offshore Fishing Charters has been serving the vibrant fishing community for more than 25 years, providing guided fishing trips for both private and corporate clients. Owned by captain Troy Wetzel, the company offers multiple fully-equipped charter boats for daily and overnight fishing charters. Captain Troy Wetzel enjoys a reputation as one of the best fishing charters in Louisiana.
The new website offers interested fishermen the possibility to book their fishing trip months in advance, choosing one of the multiple boats and the length of the trip. Daily and overnight fishing charters are available, with the schedule being easily accessible through the home page.
Louisiana Offshore Fishing Charters offers fishermen the chance to catch a wide range of species, including yellowfin and blackfin tuna, Mako sharks, marlin, red snapper, grouper and a wide range of other species.
Fishermen looking for lodging can use the accommodation provided by the Louisiana Offshore Fishing Charters. The company provides 3-bedroom/2-bathroom private rental units which can accommodate up to eight guests, each unit being fully furnished and offering a fully equipped kitchen, satellite TV, barbecue pits and other facilities.
Interested parties can find more information by visiting http://www.captaintroywetzel.com.
Release ID: 208511