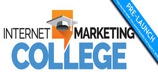 - July 20, 2016 /PressCable/ —
Marketers and entrepreneurs are invited to join the grand opening of the Internet Marketing College that will be launched on August 5th, 2016 in Scottsdale, Phenix, Arizona. This company that provides real education, will officially launch out at this event, August 5 – 7/2016
It is a real college for Internet Marketing that applies not only to online marketing – it covers Online Marketing, Affiliate Marketing, Internet Marketing, direct sales strategies, but Real Estate, Insurance, Consulting, Multi Level Marketing and of course make money online.
It is an adult education that does not compete with anything out there, but complement what people have already done on the internet. The best thing is that the practice of the school is the students "EARN WHILE LEARN", meaning that with each course set completed, the students will be actually able to use those skills immediately, TAKE ACTION, apply that skill, and make money!
The most important thing, the students will be certified in that area… because this learning system is structured and following a curriculum.
Internet Marketing College is sponsoring this year's event, which will cover key issues such as:
Facebook Advertising Hacks – Learn the most effective advertising strategies using Facebook
List Building Momentum – Learn the fastest and effective way to build a list of high quality leads.
Create Massive Traffic – In a nutshell, learn how to: Create Massive Traffic, Capture Endless Leads, Convert Sales 24/7
Full details on the event can be found on the company website at http://joinus.onlinetraffickey.com/freeticket.
Early Bird Tickets are now on sale! 75% off COUPON – the ticket discount can be found on the company website above.
When asked about the reasons behind creating this event, the host of the event, Chris Record said:
"A vision with a financial literacy would be taught in schools around the world to create a movement… to create the best of the best school in the world, to create abundance in peoples' lives, to learn how to save, how to invest, how to earn passive income, residual income, how to be able start a business from home, understanding the business, understanding the money, understanding the knowledge… to be able to giving the average person a chance to build a better life."
Now Chris Record is completely focused on the Internet Marketing College, helping to create the most structured online education available in Internet Marketing industry. The mission of IMC is to empower entrepreneurs all around the world to learn, retain, and take action on highly relevant online marketing strategies that work now.
This event will give entrepreneurs an overview about what is Internet Marketing College, and 3 days of FREE high quality Training as a bonus – August 5 – 7, 2016. The agenda for this event can be found on the Internet Marketing College website and the full details about the sessions at this year's event. Interested parties can visit the website at: http://joinus.onlinetraffickey.com/free
Release ID: 124175