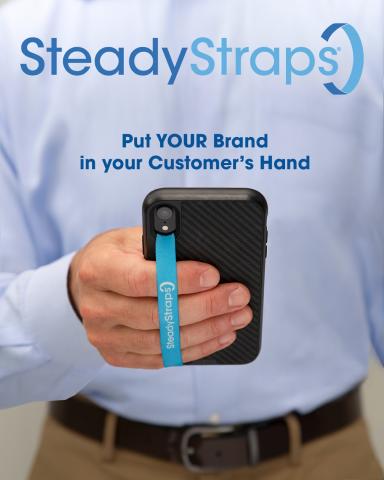 - September 23, 2021 /PressCable/ —
SteadyStraps® Brand smartphone grip straps are the new top promotional product that can be customized to bear a logo, tagline, or marketing message. Well known for helping people avoid dropping their phones and saving expensive repairs, they also help people use their phones easier and more comfortably, especially one-handed.
Dropping and damages phones is a significant and expensive problem in the U.S. In fact, 87 million Americans damaged their phones in 2020 alone (https://www.prnewswire.com/news-releases/87-million-americans-have-had-smartphone-damage-in-the-past-year-301192544.html) and in 2017, Americans broke 50 million screens – nearly 2 every second – and spent $3.4 billion dollars to replace them (https://www.marketwatch.com/story/americans-spent-over-3-billion-last-year-fixing-their-smartphone-screens-2018-11-20). SteadyStraps® Brand phone straps can help reduce these costs and provide effective marketing and brand promotion at the same time. More information about customized SteadyStraps® Brand phone straps is available at https://steadystraps.com/pages/for-brands.
Branded merchandise remains one of the most effective ways to generate publicity and goodwill for a company. As people use SteadyStraps® Brand phone straps, they effectively act as mobile billboards that advertise an organization and its offerings to the public.
These straps are especially suitable for merchandising as people check their phones over 150 times a day. As such, this opportunity offers higher promotional value, creates more brand impressions, and lowers the cost per exposure, making SteadyStraps® Brand phone straps a top product in the promotional industry.
SteadyStraps® Brand phone straps are an ideal gift at conferences, symposiums, parties, and other corporate events. In comparison with other branded merchandise, these straps generate 12 times more impressions than the #1 product in the promotional industry at 14 times less cost per impression than writing instruments, which have traditionally been one of the lowest cost promotional products.
Further details can be found at http://thevcd.com/listing/steadystraps.html
The Company has also launched an ecommerce consumer division at https://steadystraps.com/. With this new launch, consumers now have a broader range of designs and colors to choose from. These straps can be used with virtually any protective phone case and are compatible with all smartphone brands.
Aside from their marketing potential, these phone straps also offer real-world usefulness to people. When a person attaches one to their phone case, they can use their phone with more confidence, comfort, and less worry about dropping their phone. In fact, using a SteadyStraps® Brand phone grip is as important to protecting your phone as a case and screen protector. As such, they are great for outdoor enthusiasts and work well with virtually all lifestyles.
These straps are also discreet, meaning they are very thin and pocket-friendly and easily permit wireless charging without removing them or the case. They securely attach to the phone's case with no adhesives and rely on a strong, custom-made comfortable elastic and adjustable Velcro® Brand closures to provide a flexible fit that reduces hand fatigue and promotes ease of use. Their non-allergenic materials are durable, color-fast, and washable and last for months and even a year or more of daily use.
The company behind SteadyStraps® Brand phone straps strives to create simple, yet useful products that make everyday living more convenient. It sells a wide range of straps that include about 70 designs, all sourced and made in the USA. They are also an official sponsor of the 2021 Miss America 100th Anniversary Competition and have created a special limited edition Miss America strap collection available at https://steadystraps.com/pages/missamerica.
When commenting about the beginning of the product, a spokesperson for the Company said: "SteadyStraps started as a burst of inspiration after dropping our phones way too many times. We decided that there must be a better way to hold our phones, and thus our product was born."
Interested parties may visit https://steadystraps.com/ or https://www.facebook.com/SteadyStraps for more information about the company and its flagship product.
Release ID: 89046634