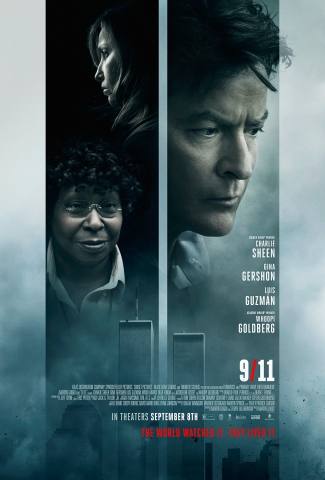 - August 31, 2017 /PressCable/ —
The U.S. theatrical release date for the new "9/11" movie is September 8, and features a cast led by Charlie Sheen, Whoopi Goldberg, Luis Guzmán (The Taking of Pelham 1,2,3), Gina Gershon (Showgirls), Wood Harris (Justified), Jacqueline Bisset (Dancing on the Edge (BBC), Welcome to New York), Olga Fonda (The Vampire Diaries) and Bruce Davison (ABC TV's: The Fosters).
Based on true events, the 911 movie tells the story of 5 people trapped in an elevator in the World Trade Center. As the sun rises in NYC on the morning of September 11, 2001, the day seems no different. In the World Trade Center, a billionaire sits in his attorney's office awaiting a divorce hearing against his wife. In a west side apartment, a bike messenger kisses his 5-year old daughter and sings her "Happy Birthday" before leaving for work. A maintenance man gets dispatched to help a World Trade Center tenant with his lock. In an upper east side apartment, a young model musters the courage to break up with her sugar daddy. As random as random can be, these individuals step into a crowded World Trade Center elevator.
Wrapped up in their own world, they all ride silently, hearing only the sound of the elevator giving notice of each floor. When the elevator stops on the 34th floor, it empties, leaving only these five behind. Moments later … their world changes as the collision of a jet into the North Tower incapacitates the elevator.
With no understanding of what has happened and is happening around them, these five are forced to band together and fight against all odds to escape from the impending, horrific collapse. During these critical minutes, a story of courage, faith and the will to live unfolds.
The cast and filmmakers have a personal connection to 9/11, which inspired them to make this film. They also had a strong desire to help people #remember911, a tragedy that affected so many Americans.
According to "Tuesday's Children," who are a promotional partner of the 9/11 movie, 1,609 people lost a spouse, 600,000 people were exposed to toxins, 12% of responders have been diagnosed with PTSD, 3,051 children lost a parent and 2,977 individuals from 90 nations were killed.
The 911 movie was adapted from the play "Elevator" and is based on true events. The 9/11 movie was directed by award winning filmmaker and Grammy nominated Music Producer/Engineer Martin Guigui, written by Martin Guigui and Steven Golebiowski, produced by Dahlia Waingort, Warren Ostergard, and Martin Sprock, and executive produced by David Cuddy, Rodric David, Mark Burg, and Ryan Johnson.
Atlas Distribution Company acquired the theatrical distribution rights to Charlie Sheen's new dramatic movie "9/11," while Fox Home Entertainment will be handling the home video release including VOD, Digital HD, and DVD.
Click here to watch the 911 movie trailer.
9/11 is a date that has become a reference point in American history. It is a moment by which lives are divided into "before" and "after." What people experienced and shared on that fateful day has no equal in people's past.
Contrary to numerous documentaries, books and other forms of media that have already been created in an attempt to help the world come to terms with the events that transpired on 9/11, the filmmakers decided to tell the story from the inside, a point-of-view not often presented in relation to this tragedy.
Director and co-writer Martin Guigui, came by the story through actor-producer Deacon Drawdy, who had optioned the stage play, Elevator. Initially, Guigui had some doubts and questioned "why make this into a film now?" Ultimately he thought, "[I] couldn't get the story out of my head. I saw it as an opportunity to explore not just the issues around this horrific event, but to plunge into the humanity that arises out of the circumstance," Guigui recalls.
Guigui set about to gain the insights necessary to preserve the integrity of the story, visiting the Freedom Towers and interviewing those who had been there on September 11, and found the connection very inspirational. "I realized it was a story that had to be told, in order that it wouldn't be forgotten," he says. Guigui later added, "Fifteen years ago, the country came together as one. Through this tragedy, we all experienced the same emotions, the same reactions. Fifteen years later, we've forgotten some of that. That's why I wanted to dive into this film, this story."
One key to the authentic execution of the material was the inclusion of real-life firefighters, both as consultants and actors. Since they not only lived through the event but experienced the loss associated with it firsthand, with more than 300 of their brethren perishing in the line of duty on 9/11, they brought a level of "gravitas and emotion to the set. Every day, we could just feel their energy. We felt privileged to work alongside them and knew we had to get it right," says Guigui.
More information on the 9/11 movie can be found here: https://www.911movie.film.
Release ID: 234949