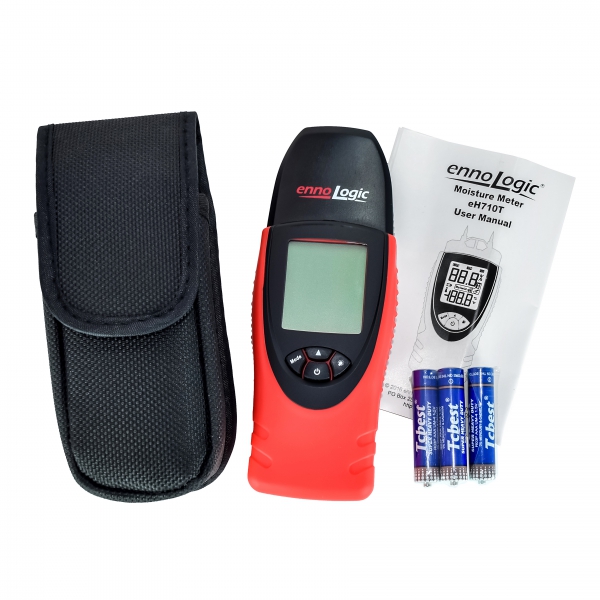 - November 15, 2016 /PressCable/ —
EnnoLogic has introduced a new digital LCD pin type moisture meter. The new moisture meter features 7 material settings, backlit LCD display, advanced features including hold, max, min and air temperature readings. The unit comes in a slender velcro-close holster and runs on 3 tripple A batteries which are included in the package.
The first moisture meter in the ennoLogic line, the eH710T is designed for use in measuring moisture content in wood, cement, mortar, brick, drywall and carpeting. The meter provides 7 different material settings including measurement for two different types of wood with easy-to-read lists of wood types within each of the two selections for easy use. There are also material settings for each of the other material types, including brick, cement, mortar, drywall and carpeting.
The sturdy pins are securely mounted to ensure easy measurement in all materials eliminating the worry of broken pins or the need to purchase additional pins. The unit also contains an air temperature reading making it simple to read current ambient air temperature in any measuring environment. This can be essential in gathering accurate data in construction and woodworking applications, among others.
The eH710T moisture meter provides easy measurement of moisture content of firewood, which is important for homeowners who depend on wood for heat in the winter months.
Green, or unseasoned firewood can contain very high moisture content, depending on the tree species, length of time since cutting, storage conditions and many other factors. Green wood can actually have moisture content in excess of 100% in some conditions.
High moisture content makes wood unsuitable for burning for heat. High moisture content produces smoldering, low heat output and excessive smoke.
Such burning conditions might work well for a backyard meat smoker, but are unsuitable for home heating.
Properly seasoned firewood should have a moisture content in the 15 to 20% range for optimal heat output. This will ensure a hot burning fire with very little smoke.
Moisture meters are also important tools in woodworking and cement and masonry construction where moisture content plays a critical role in the strength and durability of the finished product. In woodworking, cement and masonry, air temperature can also be an important factor in the final result.
The addition of ambient air temperature readings in the eH710T make it easy for woodworkers and contractors to test for environmental temperatures which can determine appropriate working conditions for certain materials.
The meter features easy to use minimum and maximum readings to provide highest and lowest readings in any given range of test readings as well as a convenient hold feature which allows current readings to be locked until they can be read. This makes it easy to take readings in crawl spaces and other restricted spaces where moisture accumulation could indicate leaks or broken pipes, without having to maintain line of sight to the meter while taking readings.
Tracing minimum and maximum readings over multiple measurements makes it easy to determine the lowest and highest moisture content in any given area. This makes it simple to locating areas of relatively higher or lower moisture in flooring, sub-flooring, walls and carpeting.
The eH710T moisture meter from ennoLogic is available for purchase on Amazon.com and the ennologic.com website.
Release ID: 146138