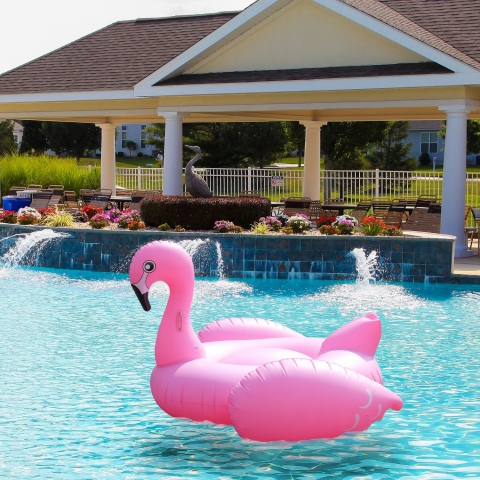 - March 27, 2017 /PressCable/ —
Teddy Shake first launched their pink flamingo float seven months ago. Since that time, it has become a best-seller on Amazon.com and a customer favorite. As the company moves into the second half of their inaugural year, a Teddy Shake spokesperson issued a statement today that a new mission statement is in development for the company, and the flamingo float.
"We have had a fantastic first two quarters of launch, with not only high sales but also loyal, enthusiastic and excited customers," explained company spokesperson, Bailey Anderson. "This is the type of reaction that a company may hope for, but can certainly never count on. This feedback from customers has given us new insight into our flamingo inflatable. We want our customers to know what we understand and listen to them. Our plan is to take some of their valuable ideas and feedback, and work them into a new mission statement for the company."
The Teddy Shake pink flamingo float is a customer favorite in the inflatable and ride-on category on Amazon.com. Over ninety customers have left reviews for the flamingo float on the Amazon listing, with the average review rating a 4.8 out of five stars. One five-star Amazon reviewer named Marge wrote "This thing is just too much fun! We have a flamingo thing in our family and also a membership for a local pool where we often leave our floaties for other people to use. This was a huge hit at the pool- the kids and adults alike just love it. None of our floats make it through more than a season at the pool, due to the shared constant use of them and whatnot, but this one seems like it will last at least as long as the rest have! Good quality, cute float!"
The Teddy Shake pink flamingo float measures eighty inches in length. It is made of a durable, high-quality vinyl that is a cheerful bright pink, and is large enough and comfortable enough for lounging in the pool or on the land. Currently priced at $34.99, customers can receive free shipping for orders of $49 or more.
About Teddy Shake: "As relaxing as a Bahama breeze; Teddy Shake makes the world's most relaxing, fun, and quirky pool floats for you and your family. With constant R&D and innovative thinkers working to make the most incredible pool floats and toys possible, we want nothing more than for you to have the time of your life."
Release ID: 180999