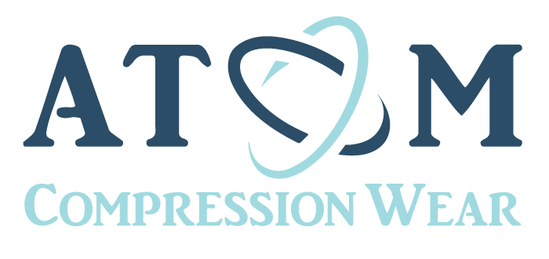 - May 17, 2018 /NewsNetwork/ —
Westlake Village, CA—Wearing clothing with compression technology can provide both short-term symptom relief as well as long-term health benefits. However, many people are averse to using these products because they have not changed much since the 1950s and 1960s. Many companies still sell compression wear that is difficult to put on, unappealing to the eye, and synthetic in feel. However, for those looking for something better, Atom Compression Wear is seeking to revolutionize the compression wear industry with new innovations in material.
Atom Compression Wear seeks to create products that foster beautifully crafted comfort and effective performance through the introduction of a brand-new material to the industry: Lanati Milk Yarn. This material is made from fibers extracted from the milk protein casein. These fibers are mixed with natural viscose and Lycra to create a material that is easier to put on, comfortable, and health beneficial. Milk fiber is also eco-friendly as it is fully compostable.
Atom Compression Wear offers products to users of all ages from toddlers to seniors. Additionally, they offer products specially made for a variety of occasions such as traveling and maternity. Users of these products have reported that they will never wear any other kind of compression material again because of the extreme level of comfort and performance they experienced with Atom Compression Wear.
Another issue with traditional compression wear products that consumers bring up is the lack of style. Most options look as though they are serving a medical purpose and draw too much attention. They do not fit in seamlessly with the sophisticated wardrobes of many working professionals. This means that many on-the-go business people who could greatly benefit from using compression technology in their daily lives will not solely because of its look. Companies like Atom Compression Wear are seeking to change this with products that are designed to fit in perfectly with every lifestyle. They offer products in a variety of colors and styles to ensure that everyone will be able to incorporate the healing powers of compression wear into their daily fashion choices.
Compression wear, like the options offered by Atom Compression Wear, seeks to alleviate minor aches and pains while also making a statement that is fashion forward. People who want the advanced comfort of milk fiber technology coupled with a sophisticated style can now look to Atom Compression Wear for their active compression apparel.
Release ID: 346015