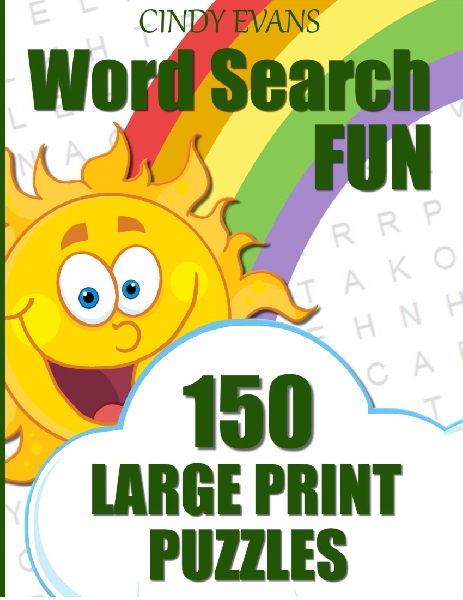 - November 21, 2014 /PressCable/ —
Word search lovers who are tired of the monotony of traditional puzzles and also want to flex their mental muscles more are in for a real treat following the launch of Cindy Evans' Large Print Word Search FUN puzzle book.
Large Print Word Search FUN boasts 150 puzzles and over 7000 words to find. With a wide range of topics and the large print format, this book will appeal to puzzlers of all ages. Unlike most others, it features five different kinds of puzzles with the goal to challenge word search lovers. The book includes traditional puzzles as well as Same Letters, Matching, Words in a Word and Missing Lists puzzles. This combination is designed to add variety and fun to the word search activity.
The Same Letter puzzles feature words that have a set of the same letters while offering interesting and unrelated words to look for. Matching Puzzles have two columns of words that can be matched to create familiar compound words or a common pair of words. Ardent wordsmiths will enjoy the Words in a Word puzzles as all the words they will be searching for can be found in the same base word while all the unused letters in the puzzle grid also come from that same base word. The Missing Lists puzzles will especially appeal to those with a knack for problem solving as the lists of words are missing, yet the words all have something in common and the first letter of each is provided.
Large Print Word Search FUN is Cindy's third puzzle book. When asked what inspired her latest work, she said: "I wanted to create a puzzle book that had some aspects and features that you don't normally find in traditional word search puzzle books … something that was a bit out of the norm and would make the puzzles more fun and challenging."
The Large Print Word Search FUN puzzle book is available for purchase on Amazon at http://www.amazon.com/dp/069232576X. For further information about this puzzle book or the others by Cindy Evans, visit http://wordpuzzlehound.com/puzzle-books.
Release ID: 68754