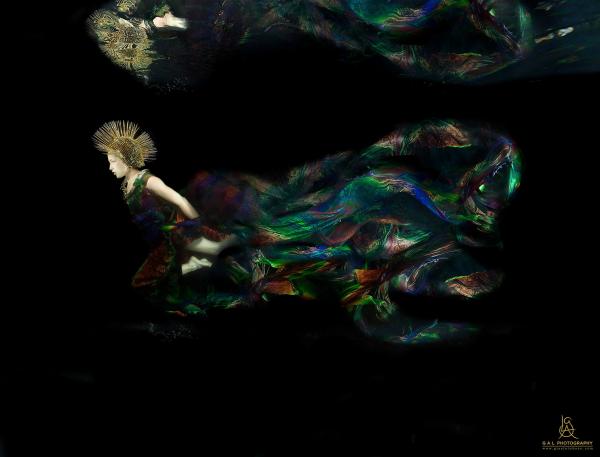 - April 24, 2019 /PressCable/ —
Art Collectors, Interior Designers, Museums looking for the latest information on the :Below the Surface: Underwater Photography of Gisèle Lubsen" event can register to attend the official Opening on April 27, 2 PM – 6 PM with the artist talk scheduled at 4 PM .. the show runs from April 13 – May 11, 2019.
GAL Photography is sponsoring this year's event, which will cover Conceptual Underwater Photography
Gisèle Lubsen is a critically acclaimed photographer whose work has been exhibited and published in the US and abroad. Her photography, entirely shot underwater, simultaneously creates a unique photographic studio and a spiritual transformational experience. The final images conjure the intense, provoking imagery of Caravaggio's paintings, but captured in live motion, with living, vibrant models. Much of her work focuses on Ancient Greek Mythology, and uses these archetypes to create beautiful narratives about human relationships, and when captured through her lens underwater, become timeless.
Gisèle says: "When working underwater, there is something magical taking place. The photography transforms into an intimate poem shared between models and camerawoman during this unique collaboration process. Working in water is fascinating to me, it's wonderful how our shared experiences take over. Most importantly, the process is emotional and connects everyone together in pure positivity. Somehow the energy of our exchange radiates out of the final piece.""Imagine a world where we are limitless and anything is possible… that is water to me"
Gisèle first started experimenting with underwater photography ten years ago. She developed a one-of-a-kind lighting technique designed to mimic the feel of renaissance painters, and this gives her pieces a truly unique feel that is simply not available anywhere else on the planet.
This one off approach comes from her background studying art history in Paris at The American University, then the Parsons School of Art & Design, and then she worked at the prestigious John Paul Getty Museum in Los Angeles before completing her MFA at Otis School of Art & Design Los Angeles in 2006.All these factors combine to make her work truly individual, giving it the ability to resonate deep within one's soul.
Gisèle's aim is to create both a photographic studio experience and a spiritual transformational experience simultaneously. Her approach is the same no matter whether she is creating a fine art production for a gallery exhibition, or a branding project for a major hotel chain – the goal is to create iconic, timeless images that will touch everyone and have beauty and meaning for all.
You may think that Gisèle uses complex scuba equipment to get such high quality and provocative shots…
… but if you were to watch her, you'd see her free diving with nothing but a camera and a team of assistants to help with lighting, props and set design.
Gisèle free dives because she believes in creating a symbiotic relationship between model and photographer. She does not exist without the model, and vice versa. They submerge and surface at the same time to create a unique energy and flow, and capture truly powerful images.
Each shoot creates a personal experience, a one off narrative that becomes a story unique to the model and the environment, a singular moment that is impossible to replicate or recreate.
Further details on Gisèle's work can be found on the company website at https://giselelubsen.com
Release ID: 506001