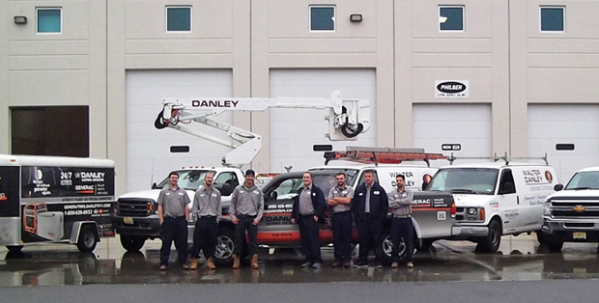 - February 23, 2017 /PressCable/ —
Sayreville, NJ — W. Danley Electrical Contracting LLC, a fourth-generation New Jersey-based electrical contracting company, recently earned Generac's #1 "CORE" Dealer in North America Award. CORE stands for: Close Rate, Overall Alignment, Reduced Install Cost, and Excellent Customer Satisfaction. The award was given at Generac's Annual Conference, which was held January 23rd-25th, 2017 in Nashville, TN.
Generac is a leading designer and manufacturer of generators and engine-powered products. Introduced just this year, the company's CORE Dealer in North America Award was created to recognize dealers around the country for their commitment to the product, as well as providing customers with the ultimate experience, including top quality customer satisfaction and best in class service.
"We here at W. Danley truly appreciate these kinds of awards and want to share our achievements with our customers and prospective customers," said company president, Walter Danley, who accepted the award at the Generac conference. "To have our efforts recognized in such a big way goes to show how hard our company works on behalf of our customers. It's because we know that without them, we wouldn't be where we are today. This award is another indicator that we're always putting our customers first, striving to meet and exceed expectations at every level."
In addition to the CORE Dealer in North America Award, W. Danley was also heralded as #1 in sales, service, support and repair, once again being recognized as a Generac PowerPro Premier dealer at the conference. Introduced in 2012, the PowerPro dealer program recognizes dealers who have represented Generac in local markets with the highest standard of excellence in sales and customer service. This is the highest dealer level attainable for Generac residential / commercial dealers. W. Danley has been a PowerPro Premier dealer for the past four years.
Originally established in 1921, W. Danley Electrical is headquartered in Sayreville, NJ. The company installs and maintains residential, industrial and commercial electrical systems, specializing in back-up generator systems. Visit danleygeneratorsnj.com for additional company information.
Release ID: 172351