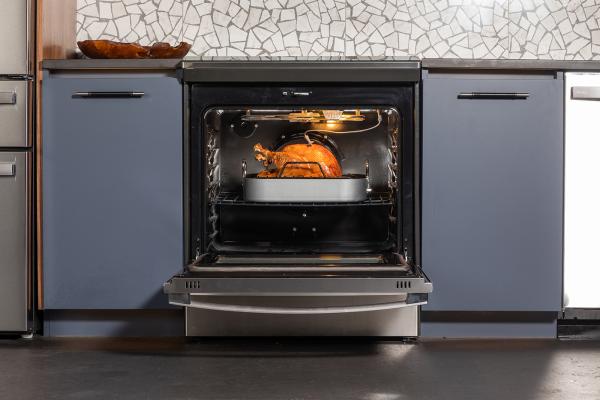 - November 5, 2021 /PressCable/ —
GE Profile is pushing the first software update of its kind today to existing owners of select WiFi-enabled ovens and ranges as a remedy for turkey perfection pressure on Thanksgiving, and a southern New Jersey appliance expert is calling it a game changer. Scot Saks, Vice President of leading southern New Jersey appliance retailer Art Handler's Appliance Center, says the brand's unveiling of its latest software upgrade-Turkey Mode-just in time for Thanksgiving is well timed, and will be well received by consumers.
With Turkey Mode, more than half a million owners have the ability to cook a perfectly juicy and tender turkey using their GE Appliances wall oven or range – eliminating the stress of researching recipes, adjusting the temperature and checking the progress of the bird. Led by GE Profile, the Turkey Mode feature will be available in a total of 64 model families, including Monogram, CAFÉ, GE Profile and GE models for a total of 336 SKUs.
"For many of our customers, it's been two years since they've gathered together with their families and they're looking forward to doing so this holiday season," says Saks. "Nobody wants to be stuck hovering in the kitchen, and with the Turkey Mode software update, holiday meal hosts can now enjoy moments with loved ones creating memories without worrying about the progress of the turkey in the oven."
Saks points out that at least half of Pleasantville, NJ-based Art Handler's Appliance Center's customers report that stress often ruins the festive nature of holiday gatherings, findings that are consistent with a newly released GEA survey. According to the poll, over a third (34%) of respondents feel Thanksgiving cooking is the most high-pressure meal of the year and 36% ranked food preparation as the biggest stressor. Over half (52%) would rather spend time with loved ones than meal-prepping, yet almost three-quarters of respondents feel that it's not Thanksgiving without the turkey.
With Turkey Mode, no preheat or prep time is required so that even a novice host can cook a great turkey with minimal effort. There's no need to brine or coat your turkey, cover it with foil, or baste it for great results. Simply follow the step-by-step instructions on the SmartHQ app or the oven's LCD screen for how to use a meat probe and exactly where to position the oven rack. Whether the bird is 12 lbs or 20 lbs, Turkey Mode does the cook-time math and executes the perfect cooking algorithms for a juicy bird that reaches an optimal doneness at 170 degrees.
By letting the technology play sous-chef, users can spend less time frantically checking their turkey and monitor temperature in real-time through the app or LCD screen. On top of that, users with LCD screens on their appliances can set the mood for fall with customizable autumn-themed wallpapers complete with Thanksgiving facts and outdoor temperatures. Best of all, the Turkey Mode is complete with an audible "Gobble, Gobble" when the bird is ready to serve.
Making the purchase of smart appliances even more affordable and convenient, Art Handler's Appliance Center, located in Pleasantville, NJ, offers 50-percent off NJ Sales Tax every day.
Art Handler's Appliance Center has a massive showroom on premises. Customers can also take advantage of deep discounts and generous rebates across many of the most popular brands in their virtual showroom at
www.handlersappliance.com
or by visiting them in person at 10 East Black Horse Pike in Pleasantville, NJ.
Art Handler's Appliance Center has been offering customers throughout the tri-state area unmatched savings for more than 70 years. Inside the showroom, you'll find the latest models from major brands like Sub-Zero, Wolf, Viking, Jenn-Air, and more. You'll also meet sales associates who have a long history in our community and will take the time to help you find the perfect product at the perfect price. The company's commitment to satisfaction doesn't end with the sale, either – Art Handler's is the only dealer in the Atlantic County area authorized to service the brands they carry. So, customers can rest assured knowing that help is available, if needed, after appliances are installed.
Visit Art Handler's Appliance Center online at
www.handlersappliance.com
or call 609-641-1044.
Release ID: 89051851