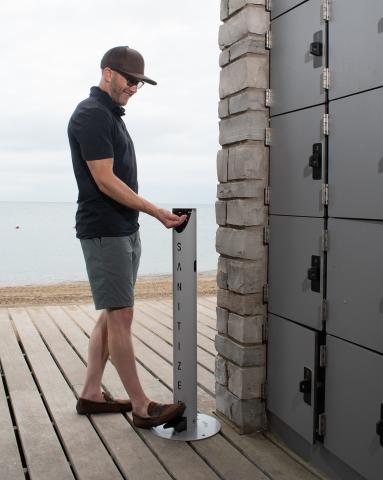 - October 9, 2020 /PressCable/ —
Hands-free dispenser promotes safe and sanitary public and work spaces
Prestige Distribution, the country's premier source of design, distribution and installation for commercial, school and residential building specialty products, announced today that the Sani-Spire Hand Sanitation Dispenser is available to order on its website (prestigedistribution.com).
Sani-Spire was created for use in industrial, commercial and retail areas, including hospitals, warehouses, restaurants, hotels, airports and event arenas. The sturdy 36-inch tower is a foot-operated dispensing station that eliminates concerns about sharing common-area hand sanitizer bottles.
"Providing the products and accessories to help create safe and sanitary public and work spaces is our uppermost priority," said David Waxman, Prestige Distribution president. "Sani-Spire is an essential addition to our complete line of antimicrobial products, contact-free washroom accessories and acrylic sneeze guards. It promotes hand hygiene and restores confidence in re-entering the workplace, schools and public places."
Ready-to-use out of the box with no assembly required, Sani-Spire is free-standing or can be mounted securely to the floor. Because it is waterproof, it can be used inside or outdoors. Its distinctive tower design stands out in any high traffic area and is the perfect height for use by all ages. It requires no batteries or electricity to operate.
Thirty-two-ounce hand sanitizer bottles, refillable with the hand sanitizer of your choice, are safely and securely held in place by a locking cap.
"The safe re-opening of the country can only happen when people take hand sanitization seriously," Waxman emphasized. "Prestige prides itself on distributing the most reliable and trusted products to combat the spread of Covid-19. The hands-free Sani-Spire is an easy-to-use, worry-free solution."
About Prestige Distributionibutioninc.com/pages/about-prestige-distribution-inc
Founded by David Waxman in 2004 with Adi Klinghofer joining as co-owner in 2008,
Northbrook, IL-based Prestige Distribution is the premier, one-stop source of design, distribution and installation for all commercial and residential building specialty products. Prestige stocks, furnishes and installs washroom accessories, toilet compartments, lockers, janitorial supplies, fire extinguishers, display boards, mail boxes and many other commercial specialty products. Clients include Wrigley Field, Regal Cinemas, Chicago O'Hare Airport and school districts throughout the country.
For more information, please visit prestigedistributioninc, email web@prestigedistributioninc.com or call (847) 480-7667.
Release ID: 88980170