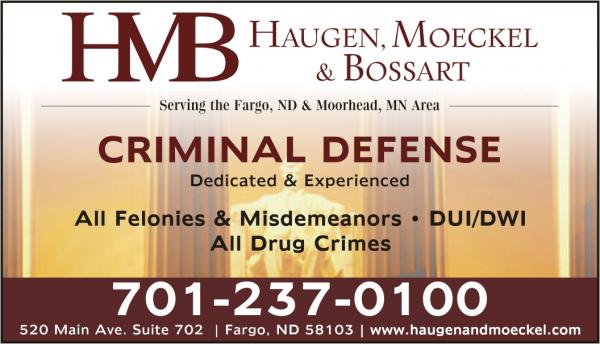 - January 23, 2020 /PressCable/ —
The law firm of Haugen Moeckel & Bossart, located in Fargo, has released a free tip sheet to help Individuals with prior misdemeanor and felony convictions in North Dakota. In their article "A Clean Slate: Your Guide to Sealing Criminal Convictions in North Dakota" you can find a full list of tips. To read the entire article and see all the tips visit a a Clean Slate.
Having a criminal record carries with it a load on daily living that is unduly hard… the sort of baggage that precludes many of the things we take for granted such as ease of obtaining loans, housing and employment to name a few. Whatever can be done to expunge such record should be considered by any person who is weighed down by such a record.
A person may file a petition to seal a criminal record if the person has previously pled guilty to, or was found guilty of, a misdemeanor offense and in the intervening years the person has not been charged with a new crime for at least three years from the date of release from incarceration, parole, or probation.
A person may not file a petition to seal a criminal record if the offense was a felony offense involving violence or intimidation.
The petition must be properly filed and served, and it must include certain specified information.
When asked about the reasons behind the tip sheet, Lindsey Duane Haugen, Attorney At Law of Haugen Moeckel & Bossart stated,
"North Dakota has finally passed a law for people to seal prior misdemeanor and felony convictions in certain circumstances. This is a big step forward for people to move beyond their criminal past and get on with their lives; though it is not a guarantee that all of their past criminal offenses will be washed away."
The tip sheet is available for free as a courtesy and any individuals with a prior misdemeanor and/or felony conviction in North Dakota are encouraged to review the tips and share with others whom they feel may find the information useful. To read more please visit our blog site at a Clean Slate.
Release ID: 88943836