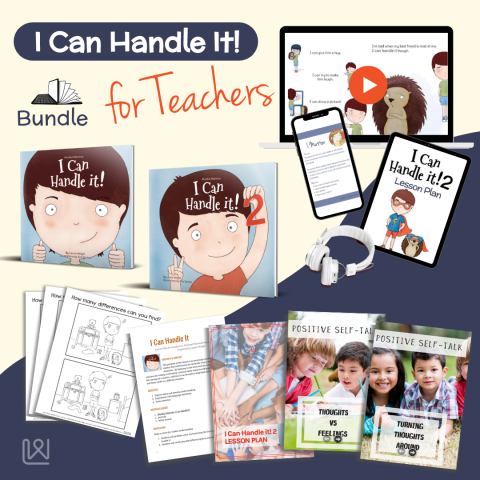 - April 6, 2021 /PressCable/ —
Laurie Wright today reflected on the release of the 'I Can Handle It' resource bundle for teachers. The first 'I Can Handle It' book was released almost 5 years ago ago, and was in development for over ten years. The main aim was always to allow teachers to help their students improve their self-efficacy and problem solving abilities…. and by providing outstanding resources, this Teacher Resource & Book Bundle does so, with a difference.
Laurie Wright, Author of the Mindful Mantras series at Mindful Ink Media, says: "We wanted to try something new with the 'I Can Handle It' Teacher Bundle. Anyone familiar with the Kid lit market will probably have noticed how everyone else always seem to preach at kids 'You should just worry less!'. We felt this was a problem because kids don't worry less just because they're told to. In fact, that often increases the problem."
So as a welcome breath of fresh air, the 'I Can Handle It' Teacher Bundle instead uses kid language, and common, relatable, everyday situations that children will find both familiar and amusing. Laurie Wright chose to make this move because as a kindergarten teacher for ten years, she knows how to speak to young kids so they listen.
Laurie Wright also said "We want to give teachers a way to relate to kids with a common language, kid language. A way to use common terminology that kids really 'get'. With the 'I Can Handle It' Book and Resource bundle, teachers have a fresh new possibility. We want them to feel like they have an easy to implement way to get through to young students, when using the 'I Can Handle It' Teacher Bundle. Trying something new is always a risk, but it's a risk we believe is worth taking."
Laurie Wright has been writing for kids for 5 years, since being established in September 2016. From Day 1 she has always aimed to help children improve their positive self-talk by learning to use affirmations throughout their day.
The 'I Can Handle It' Teacher Bundle is now only available at lauriewrightauthor.com, however the books can be purchased in Amazon stores worldwide or in major bookstores. To find out more, visit the website.
For further information about The Mindful Mantras series, or to purchase the collection, go to https://lauriewrightauthor.com
Release ID: 89004004