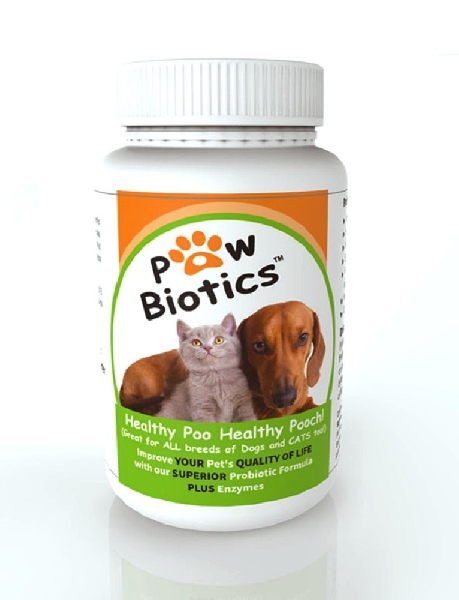 - September 13, 2014 /MarketersMEDIA/ —
Baltimore MD, U.S. – September 12th, 2014 /PressCable/ —

Customers looking for the latest Human Grade Pet Probiotic Supplement for their dog or cat can purchase the new PawBiotics(tm) by Superum Products LLC via Amazon. The product listing can be found on Amazon: http://www.amazon.com/Probiotics-Suffering-Supplem…
PawBiotics(tm) is designed with Dog and Cat Owners in mind and includes multiple features such as:
Human grade probiotics that insure the efficacy of the product showing immediate improvement in the pet's health.
Prebiotics that fuel the growth of the probiotics optimizing the growth of the good bacteria to strengthen the pet's immune system quickly.
Enzymes that improve absorption of the nutrients in the pet's food.
All the ingredients are natural, gluten free and contain no MSG.
The company also includes a free book titled: "The secret to your pet's health; probiotics, yeast and enzymes, the building blocks for your pet's health" by Dr. Al Plechner, DVM and author of multiple books on pet health.
In particular, Tony Verner, Creator of PawBiotics(tm) of Superum Products LLC had this to say about the product:
"This pet supplement is one of the few on the market that uses human grade probiotics in it's formulation. Unfortunately, many of the pet supplements on the market today are produced using inferior raw ingredients sourced from overseas, as well as fillers and in some cases toxic ingredients.
Most people don't realize that a dog or cat's largest immune organ is it's digestive system. Many, if not most of the pet health problems today can be alleviated with proper diet and the addition of a supplement such as PawBiotics(tm). As the animal's digestive system strengthens as a result of the good bacteria that takes over, a natural inner healing takes place as their immune system starts to take over and produce antibodies that fight all forms of disease, viruses and bacteria that cause their health problems.
It's truly amazing and rewarding to hear the stories from customers about the improvement of problems such as diarrhea, gas, vomiting, skin and ear issues, joint pain and more, after using PawBiotics(tm)."
Those interested in learning more about the company can do so on the company website at www.PawBiotics.com. Those interested in purchasing can go directly to the Amazon product listing, here: http://www.amazon.com/Probiotics-Suffering-Supplem…
Contact Info:
Name: Tony Verner
Email: info@pawbiotics.com
Organization: Superum Products LLC
Website: www.PawBiotics.com
Phone: 410-935-0874
Release ID: 62823