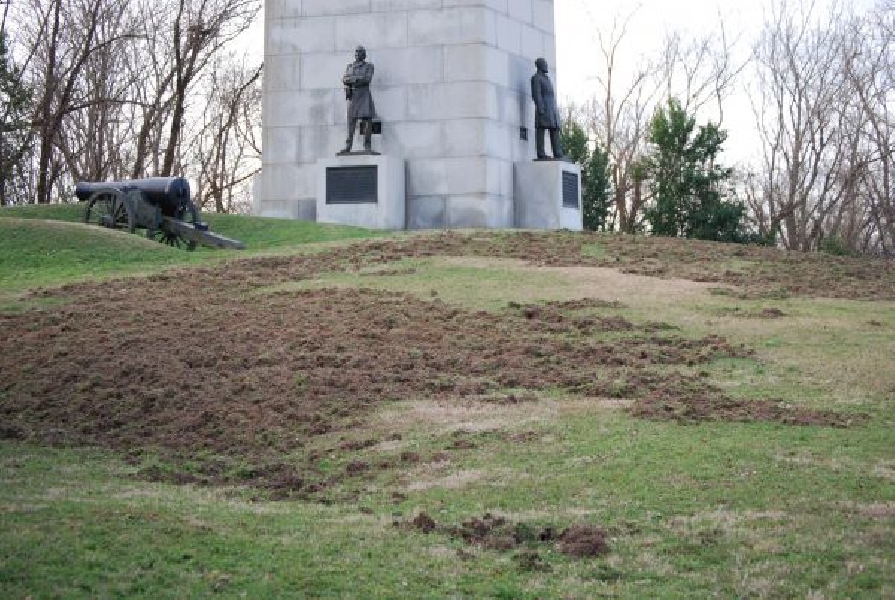 - November 30, 2014 /PressCable/ —
Over 1 billion dollars' worth of property damage annually [http://feralhogs.tamu.edu/frequently-asked-questions-wild-pigs/] leads many states to encourage wild hog hunting. Thanks to Dennis Carnine's Illuminator Hog Hunting Feeding Light, hog hunters can now spot and kill their nocturnal prey more easily and quickly.
Known as one of the most destructive animals in the U.S., wild hogs ruin crops, kill young livestock and destroy forests while rooting for food. Even national monuments have suffered extensive damage. This economically and ecologically harmful behavior has caused many states to allow hunting year-round with no bag limit to bring these pigs under control. 
American Hunter calls hog hunting "one of the fastest growing, most exciting and most necessary types of hunting today." [http://www.americanhunter.org/articles/hog-hunting-usa]  However, bringing down wild pigs at night proves to be difficult, even for experienced hunters. Hunters need light to hit their hog target, and this tends to spook the animal before a shot is fired. 
The Illuminator Hog Hunting Feeding Light brings a plausible solution to this conundrum with its combination of red and green LED lights, virtually invisible to hogs while lighting up the feeding area. Acclaimed for being water resistant and flexible, this motion-sensitive device triggers a gradual flood of light as prey approaches within a 160° radius. Hunters can see well enough to fire within 20 seconds without hogs ever alerting to their presence. 
Invented by Dennis Carnine, a hog hunter with over 50 years of hunting experience, the hog hunting light has been proven in the field. Terminator Hunting Light's website highlights the reliability of the product. This light "won't fail you during the hunt even in poor weather conditions or at a challenging hog hunting site."    
Carnine, President and CEO of Terminator Hunting Light and experienced hog hunter, says about the new Illuminator, "This is one light that the hogs will not have to get used to. You will be able to kill hogs on your first sit because they will not know they are being lit up."
As hunters bag more hogs, land owners are bound to see a decrease in property damage. In southern states where wild hogs are rampant, this is welcome news indeed. 
Terminator Hunting Light, specializing in hog hunting feeders, has been operating for nearly 25 years. The Illuminator is one of two lights specifically created by the company for hog hunting. Readers are encouraged to learn more about the Illuminator at the http://www.terminatorhuntinglight.com/.
Photo credit: Courtesy Vicksburg National Military Park
Release ID: 69278