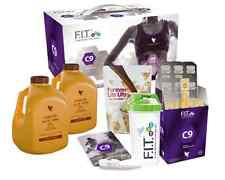 - August 30, 2016 /PressCable/ —
London, United Kingdom (August 30, 2016) – British entrepreneur, James Scurrah, recently launched a new website www.clean9team.co.uk, dedicated to provide and distribute a powerful cleansing program. The program, Clean 9 (a product part of Forever F.I.T. by Forever Living), is ultimately designed to detoxify the body by undergoing a strict diet regimen for nine consecutive days. The website's main goal is to ease the weight loss struggles of most people by showing them a proper way to start losing weight by means of detoxification.
Clean 9 Team provides adequate information with regards to their product, specifically how its main ingredient works, which is Pure Stabilized Aloe Vera. The site also showcases sequel products to further gain results after using their main product, C9 (Clean 9). Though, the sequel products are the not the main attraction of the site, they still provide imperative information about it. The website is overall user-friendly and simple, making it fairly easy to navigate for people who are not tech savvy.
The founder and CEO of Clean 9 Team, James Scurrah, used the product himself. Seeing the results and effectiveness of the product, he started to create the website and promote the product. Soon, he plans to further expand further out of the United Kingdom online. "This is the only product that really brings in results, real results that everyone can enjoy… I think everyone should give it a try, especially those having a hard time losing weight," said James. "My team aims to ease the struggle, many people just need a good boost at the start of their weight loss journey, this is what Clean9 does, and it did to me and my team."
The mission of Clean 9 Team is to provide people a faster and easier way to lose fat through cleansing – and a comfortable method to attain the product. The website is a means to do all of that. For further information about Clean 9, please visit http://www.clean9team.co.uk/.
Release ID: 129706