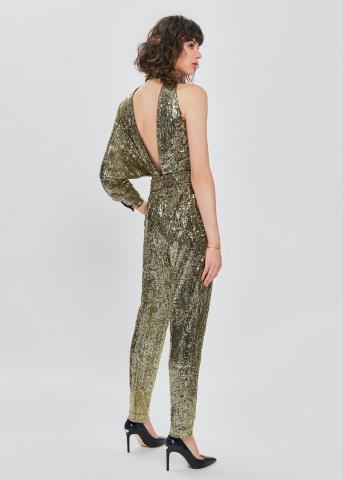 - July 2, 2020 /PressCable/ —
Emma Wallace makes no secret about the fact that she draws some of her unique style inspiration from the 70's, a decade that was known for its flowing, relaxed and very feminine fashion vibe. View Emma Wallace's collections of dressy jumpsuits and rompers that make a great outfit for summer weddings. For more information visit the designers' website: https://emma-wallace.com/collections/jumpsuits
The jumpsuit was very on-trend during the 70's and it wasn't unusual to see them being worn for special occasions, such as weddings. The stunning gold Nysa Jumpsuit by Emma Wallace was inspired by this 70's fashion trend and would make a stylish choice for modern wedding guests that want to stand out from the crowd. From its practical origins in 1919 as a garment for airmen to wear while jumping from planes, it was during the 1930's that the jumpsuit really took off as a fashion piece when fashion designer Elsa Schiaparelli took up the challenge of creating jumpsuit designs that would appeal to elegant women. While her one-piece designer jumpsuits were very talked about at the time, her designs were only worn by a select few women daring enough to break with convention.
It was probably during the 1940's when the jumpsuit took off when American designer Vera Maxwell created a sporty range of jumpsuits that found their way into popular fashion. The jumpsuit fashion movement was starting to bubble up during WWII with the iconic 'Rosie the Riveter' poster campaign. Although the style shown in the now-famous poster was more utilitarian than designer, it did spark the idea in women's minds that jumpsuits were perfectly acceptable for casual wear.
However, things rapidly changed in the 1950's when prominent American designers such as Bonnie Cashin started to work on creating more elegant designs that would see jumpsuits becoming a staple for wedding guests and women wearing designer jumpsuits for special occasions. The 1950's jumpsuit revolution saw many designer jumpsuits that became popular for dressing up and down for day and evening wear. The late 1960's and the 1970's decade was the real prime-time for the popularity of the designer jumpsuit.
Emma Wallace has taken inspiration from the glamour and sophistication of the 1950's and mixed it with the more relaxed style of the 1970's to bring to life a superb design in her Nysa Jumpsuit and Suzanne Jumpsuit line. For more information on Emma Wallace's elegant designer jumpsuits view her collection here: https://emma-wallace.com/collections/jumpsuits
The 70's jumpsuit perfectly embodies the historic elegance of the 1950's jumpsuit blended with the iconic relaxed and feminine lines of the 1970s. This striking jumpsuit offers the wearer an eye-catching outfit that is sure to turn heads when you enter the room. However, the light fabric choice combined with the flowing wide-leg design will help to keep you feeling cool and perfectly composed during warm summer days or evenings, wherever you choose to wear it.
Along with the stunning gold Nysa Jumpsuit and the red Suzanne Jumpsuit, Emma has also styled a striped version of the same design. What makes this particular striped silk version of her designer jumpsuit unique to the Emma Wallace brand is down to the specially designed digital stripe print in this season's favourite colours. Ultimately versatile, easy to wear and just a little bit feisty, the modern designer jumpsuit has once again become a must-have wardrobe staple for the Emma Wallace Woman. These eye-catching designer jumpsuits would be the perfect choice for wearing at summer weddings. To learn more about Emma Wallace's casual designer jumpsuits visit her website: https://emma-wallace.com/collections/jumpsuits
Release ID: 88966868