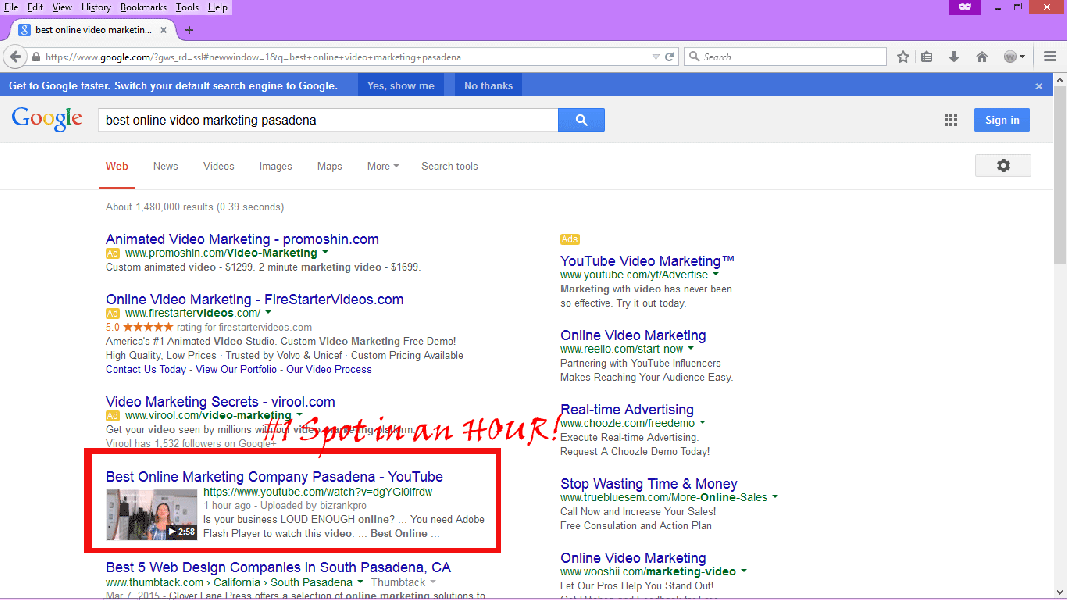 - April 23, 2015 /PressCable/ —
For small business owners and professional service providers looking to brush up on their online marketing for their small businesses, BizRankPro – Marketing Outloud! is offering a brand new free training session that starts Tuesday April 21st. The training will be held online, and will take about 60 minutes each week and is available both live and on-demand.
For full details, interested parties are encouraged to view the website at http://www.bizrankpro.com/marketingoutloud. Free class offer ends April 29th. Paid enrollment will be offered after that time.
Areas of online marketing for small business that will be covered include:
Keyword Master Class: Finding Keywords That Work – Keywords are the "keys" to either making it into the spotlight or being tossed into oblivion. Business owners need to get their keywords right, and they need to do this first. Participants will learn how to target the exact searches their ideal clients are using.
Video Optimization Kit – In a straight-forward, easy to follow step-by-step format, each step of the process to using video for Google ranking is outlined so it can easily be repeated over and over, every time a new promotion, product or service is announced. Small business owners will learn how to avoid costly mistakes of doing the wrong steps at the wrong time.
Building Authority With Video – Small businesses need to get their videos SEEN by their ideal clients. This is the advanced marketing training that gives their business high visibility, high credibility and high authority.
When asked about the reasons behind the decision to provide free training on such an in-demand topic, Erin Smilkstein, Online Video Marketing Expert of BizRankPro – Marketing Outloud! said,
"Too often I hear people tell me, 'My current clients love what I do, I just wish more people knew about it!' So I ask, 'Are you one of the "Best Kept SECRETS?' And I get too many yesses. People will always come back when they know, like and trust you (the marketing trifecta, right?). BUT they can only buy from companies they know about. And for them to like and trust you, they need to see you, hear from you and know what you are about. But they can only do this if they know about you first. I want to help small business owners find easy ways they can do themselves to get the most visibility and exposure online."
Small business owners and professional service providers can find the most up-to-date information about the free training at http://www.bizrankpro.com/marketingoutloud. Customers who have specific questions about the training itself may contact BizRankPro – Marketing Outloud! via their website.
Release ID: 80118