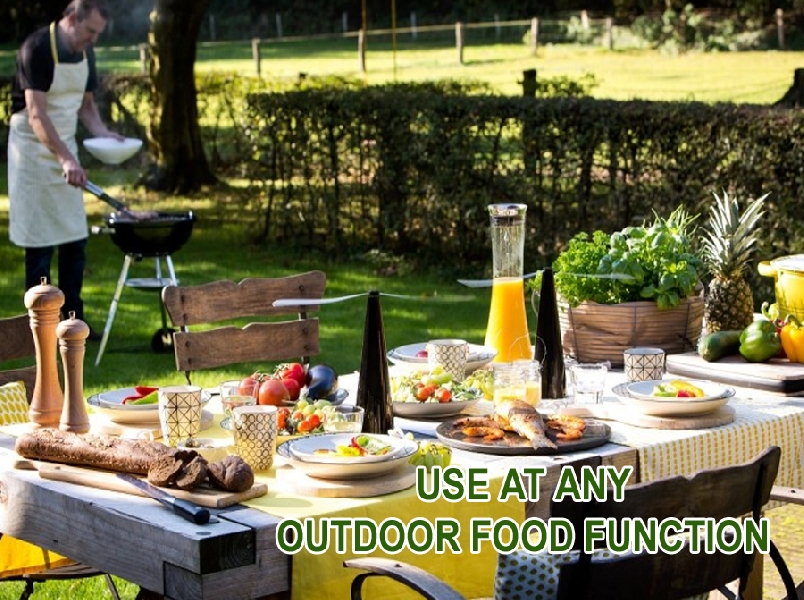 - June 10, 2015 /PressCable/ —
People who dine outside or do barbeques are raving about the ShooAway which is new to the UK and safe for keeping flies away without killing or using any harmful chemicals and it's very easy to use too.
Most fly repellent products are of the traditional nature where a chemical spray or a scented candle are used in order to stop flies going near the food. Children and pets will also not be irritated by ShooAway as the soft blades will not do any harm.
Fly infestation does occur more so in the summer months when the fly season is ripe and if people are outside at a picnic or any outside catering event. Let's face it all that flies have to offer are germs and bacteria which most do not want to eat.
People have been shooing away flies for years and most do not know one person who has not waved a hand across food when the fly has made a beeline for it.
Apparently the inventors Andrew 'Smithy' Smith and Rob Ayala came across the idea after Rob threw out a challenge to 'Smithy' to see who's smarter and invent something that will keep flies away.
ShooAway is the result and the amazement surrounding this product is evident as more and more people are using this as a go to summer gadget. At the recent launch weekend people were exhibiting mass hysteria and thousands of ShooAways were selling from the www.shooaway.co.uk website.
Restaurants, farms shops, garden centres are singing its praises as potential can be seen in something this simple.
2AA batteries makes the ShooAway last for many hours and the patented holographic discs are the secret to keeping the flies at bay as when spinning, an area an is created that flies just cannot go near as the colours interfere with the compound eye structure the fly has.
Release ID: 84054