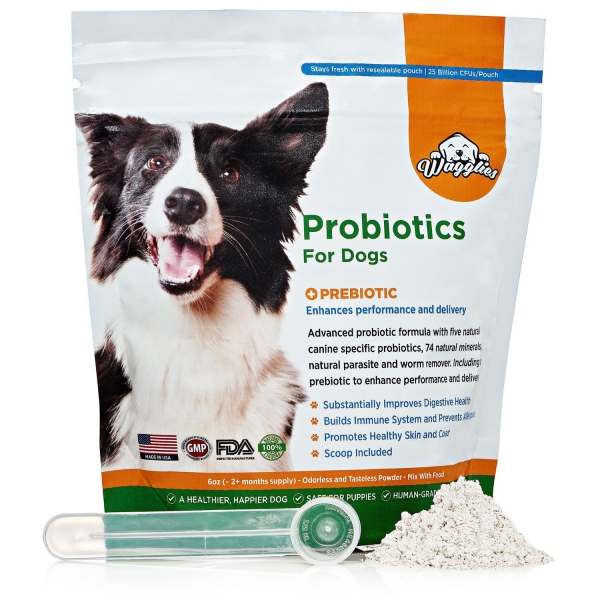 - June 9, 2016 /PressCable/ —
Since launching their new Probiotics for Dogs onto Amazon USA in late April, Wagglies have received feedback from customers and achieved multiple order milestones. This week, the brand have received more feedback from customers.
The feedback from the customer talks of why they chose to use dog supplements and how they give them to their dog, "…My dog is now considered a senior and we still go to the dog parks and walk often where he can pick up a lot of junk. I love my dog and I want him to live as long as possible and probiotics were recommended by the vet. It comes with a scooper for easy measurement and the amount needed by weight of the dog. I blend it in his wet food and no problem eating it…"
Wagglies' Probiotics for Dogs contain 5 strains of probiotic and 1 added prebiotic. The prebiotic acts as an anchor, guiding the probiotics to the areas of the gut and intestines where they will be most effective. The custom powder mix also contains 74 trace minerals and 25 billion CFUs.
"The feedback that we've received from this customer is exactly what we're looking for." said Dan Clayton, Founder of Wagglies, "We understand that improving and refining a product is essential so we make sure that we take our customers' comments into account during that process."
Each batch of Wagglies' new dog probiotics is made in a GMP and FDA approved lab in the USA. This allows the brand to keep a close eye on the quality of their supplements.
"Our customers look for quality when they are shopping for probiotics so we have made sure that our dog supplements are made with only the finest ingredients available during production." continued Dan, "Our probiotics are human-grade and don't contain any harmful ingredients, so they are safe for owners to give to their four legged friends."
Wagglies Probiotics for Dogs are now available in a 6oz bag (∼ 2+ months supply) from Amazon USA: http://www.amazon.com/Wagglies-Probiotics-Dogs-Pre…
Release ID: 118356