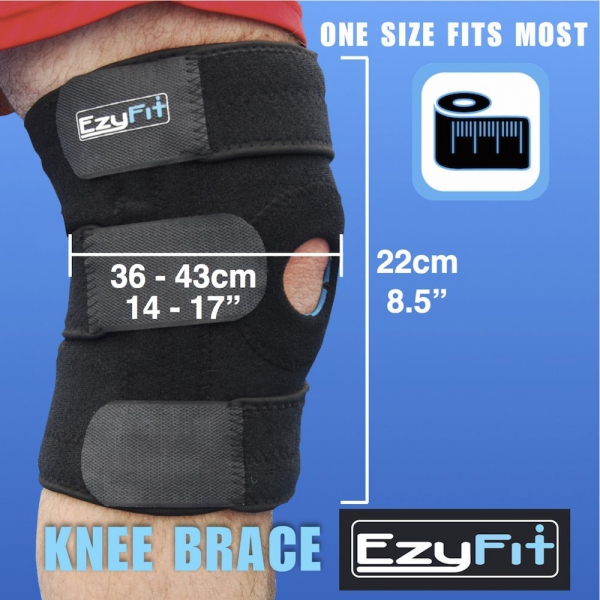 - March 17, 2016 /PressCable/ —
Post-operative patients who are suffering with their knee surgery recovery issues are giving praise for the new EzyFit Knee Support. The product has been available for a while but it is now that reports are emerging which are showing the benefits that are being enjoyed by those who have recently had surgery.
Company spokesperson Jessica Shawe states "Our product is ideal to assist recovery from knee surgery, arthritis, Meniscus Tear, ACL, Tendonitis". Backing this statement up are testimonials from satisfied customers who are unanimous in their opinions of the benefits that the support gives them with their difficult joints.
One satisfied customer K. E. wrote: "I have recently had knee surgery. My doctor recommended to purchase a knee support. My knee gets swollen throughout the day and this is the only brace I have found that will for comfortably all day. It has decreased the swelling as well as the discomfort and pain I feel… I would highly recommend this product…"
Another purchaser observed of his purchase "…My son is very athletic and had knee surgery last year. This is great for him because it offers support so he can still be active and do the sports and things he loves to do…" so for someone who is young and active after surgery, the product has proven to be an asset to his recovery and continued mobility. Doing the things that are important to him has been a large part in the healing process as far as his mental attitude to life is concerned.
Jessica Shawe, when asked about EzyFit Knee Support said:
"We are delighted that customers have seen the benefit of using our product. The Knee support was developed with this very application in mind. For us this is vindication for all the hard work we did in bringing this product to market. This positive proof that the benefits of our product are as we say and that those who need the knee support the most are able to derive the greatest pain relief and comfort from it"
This is EzyFit's newest product and Jessica Shawe is particularly excited about this release because it finally gives users a proven product to improve the life of those who have undergone knee surgery.
Those interested in purchasing can go directly to the product listing, here: EzyFit at Amazon
Release ID: 107417