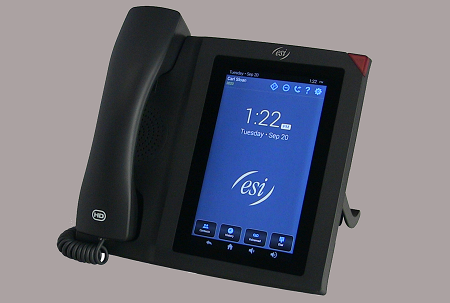 - August 11, 2020 /NewsNetwork/ —
The new ESI eSIP Evolution Series is now available at Unify Marketing and Technology Solutions. Small to mid-sized enterprises around Toledo, Maumee, Perrysburg OH area can now benefit from this new and powerful phone system, allowing organizations to build their entire communications strategy.
Detailed information is available on the company's website at: https://unifymts.com/ .
The phone system is powerful, flexible, and provides digital IP communications with advanced capabilities that are easy to use, enhancing its competitive edge.
Unify MTS President Jason Vickers states, "In today's world, it is crucial to have a communication solution in your business that will keep you connected with your employees and customers at any given time and place. Unify Marketing and Technology Solutions can help you manage your staff's performance with the new ESI phone system."
Business phone system experts point out several key features of the new ESI eSIP Evolution Series.
The conferencing and three-way calling feature allows users to quickly and easily connect an additional party to an existing call. The conference key allows dialing of extensions to add other parties to a conference call. It also has an inbuilt conference bridge that allows participants to dial into a conference call from their phones.
The Unify MTS team emphasizes several advanced call handling options including user management of calls while away from the office by using the off-premises call routing. The virtual answer key enables management of multiple incoming calls by giving the caller an option to hold the call or select another choice. The phone system also suspends message notifications after work hours and on weekends. It has an easy-to-read, informative display that shows the number of old and new voicemail messages, message countdown timer, and caller ID. Its redial key enables redial of the last 100 numbers dialed.
An extremely useful feature to Unify MTS customers is the built-in call recording capability. Users are able to record personal greetings for their mailbox to keep customers informed of their availability, invite the caller to leave a message, or instruct them to page the user while away from their desk. The Unify MTS team points out that switching between personal greetings is easy, and can even be done remotely while users are away from the office. The record key also makes it easier to record conversations and store personal memos. Recording directly into a co-worker's mailbox is a popular feature.
The ESI system easily integrates with a Cloud Contact Center which enhances flexibility and reduces hardware setup overheads, ensuring an uninterrupted customer service via a wide range of voice and digital channels. Integration with CRMs facilitates the storage of all customer records such as contact history and account information, helping businesses manage all interactions with their customers.
Finally, the ESI eSIP Evolution Series quick multi-site and remote user connections feature allows employees to work as if they were in one single location. It easily transfers voices so that a business workforce located in different sites can effectively share ideas and data.
Mr. Vickers knows his customers needs and claims, "The reason businesses in the Toledo area turn to UNIFY Marketing and Technology Solutions is because we are the right professionals to install and educate clients on how to operate this newly available phone system."
Industry comparison with other business phone system service providers show that Unify MTS services are thorough and affordable. Notes Mr. Vickers, "UNIFY helps you determine which solution is best for your business and recommend the right set of features depending on how people in your organization communicate to avoid paying for unnecessary extra features. Upon placing your order, our team is always swift to set everything up you need and ensure a hassle-free implementation."
Interested Toledo area small and mid-sized business can contact the company at: https://unifymts.com/ .
Release ID: 88972194