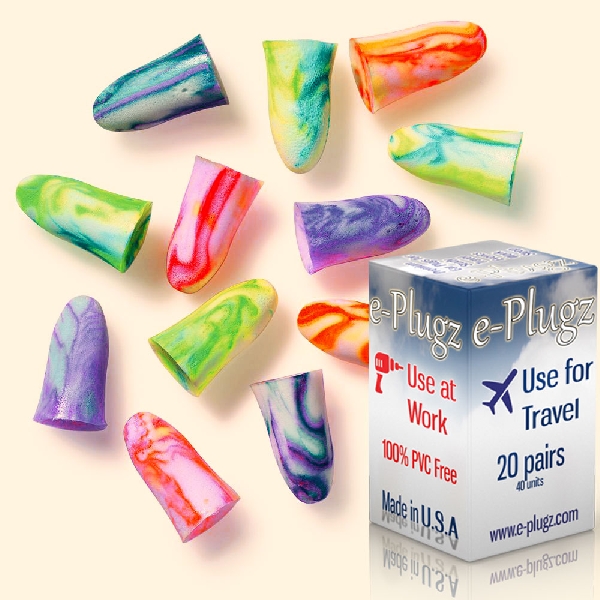 - August 5, 2014 /MarketersMEDIA/ —
Montreal, Canada – /PressCable/ —

Info Solutions Fuzion introduces e-Plugz on Amazon.com. These premium earplugs provide comfortable hearing protection in various settings.
e-Plugz are designed to provide a high NRR (Noise Reduction Rating) of 33, giving consumers the best possible protection against prolonged sound exposure. e-Plugz are made with extra-soft foam that are tapered to easily fit inside the ear canal. e-Plugz users benefit from a comfortable hearing protection experience, allowing them to be worn for an extended period of time.

According to the National Institute for Occupational Safety and Health (NIOSH) an arm of the Centers for Disease Control (CDC), prolonged noise exposure at 85 decibels or higher can put anyone at risk for permanent hearing loss. A typical vacuum cleaner produces 85 decibels. Being is a situation where the noise is louder than the average vacuum cleaner happens to most Americans more than 10 hours per week. e-Plugz can be used in situations when a spouse snores, a work environment is noisy, speakers at concerts are blaring, sports fans are wild, or travelling companions are just not quiet enough. These are just a few examples of the daily activities that, in the long run, can lead to lifelong hearing loss.
For the majority of individuals, permanent hearing loss begins to occur between the ages of 20 to 59. However, there are a number of precautions we can take to significantly reduce hearing loss. The number one way to protect one's hearing is by using e-Plugz when exposed to loud environments for any amount of time.
"Comfort is the key element to ensure people actually enjoy wearing earplugs for the duration of time that they need to wear them. e-Plugz provide the most comfort and the highest NRR of any ear plug on the market, making them the absolute solution for everyday hearing protection. This means that more people will enjoy protecting their hearing and that's very important to us," says Daniel Vaudrin, of Info Solutions Fuzion.
For the initial launch of e-Plugz, they can be found only on Amazon.com.
Get more information here:

Website: e-Plugz.com
Contact Info:
Name: Daniel Vaudrin
Email: info@e-plugz.com
Organization: Info Solutions Fuzion Inc.
Website: www.e-plug.com
Phone: +1 (866) 918 9945
Address: 507-1451 Parthenais, Montreal, Quebec, Canada
Release ID: 57523