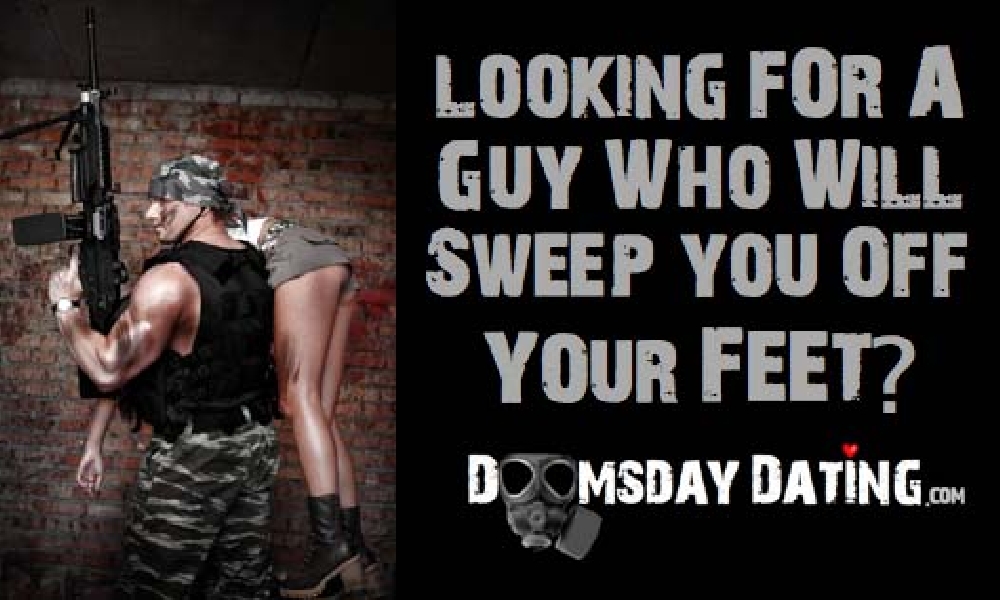 - December 6, 2014 /PressCable/ —
Popular niche dating website DoomsdayDating.com is working with a TV production company to enlist male and female "preppers" to star in a new reality TV show now in development.
The show will feature rugged male survivalists, or "preppers," while they perform survival challenges to impress their potential female partners. While building emergency bunkers, competing in long range shootouts and fashioning zombie-killing weapons; these tasks will also provide real, valuable insight into current prepper and survivalist tactics. Once the men have proven their prowess, the women pick their favorite survival suitor from the pack.
Next, the men must create the perfect "Doomsday Date" to woo their woman. Leaving their lady in a secure, fortified shelter they've created, the stealthy studs set off to hunt for their dinner. Returning with his catch, the pair swap hypothesis on society's impending collapse as the meat roasts on top of a cackling makeshift fire.
"Whether it's civil unrest, natural disaster, terrorism, biohazard, or economical collapse, the world is a pretty frightening place right now, and people are preparing for the worst," says Brian Woeller with DoomsdayDating.com. "Who wants to survive the apocalypse alone? And besides," Woeller says, "The world isn't going to repopulate itself, is it?" 
All across America, people are preparing for the worst, while looking for a partner who will have their back WTSHTF (When The Sh*t Hits The Fan). Across the nation, the doomsday dating scene is hotting up. These are not your everyday dating sites, either. Rather than the typical dating profile that includes statements such as, "I like Sunday brunch and going to hot yoga," DoomsdayDating.com profiles are more representative of their extreme lifestyles: "I'm preparing for a biochemical disaster…wanna join me?"
Those who would like to try out for the TV show, and/or are interested in meeting like-minded survivalists, please go to DoomsdayDating.com.
Release ID: 69875