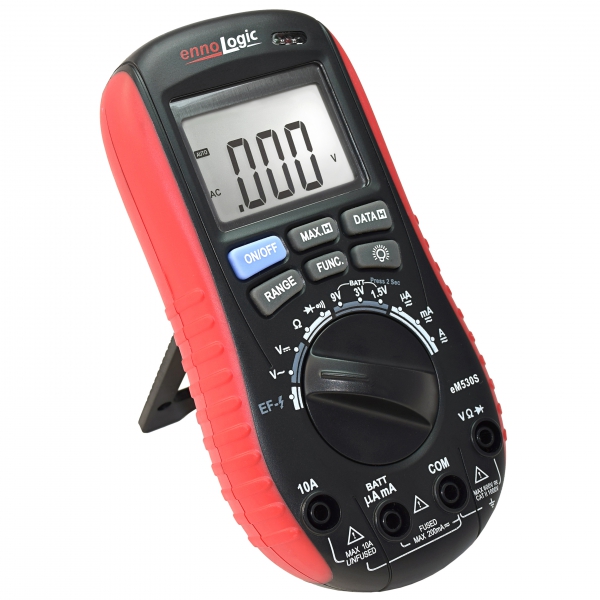 - August 31, 2016 /PressCable/ —
EnnoLogic® has released their newest testing instrument, the eM530S multimeter with battery tester into the market.
According to company spokesman, Chris Johnston, the new multimeter was released earlier this summer as the latest piece of testing equipment to be offered by EnnoLogic®.
The digital multimeter with battery tester from ennoLogic is a feature-rich professional instrument designed for homeowners and professional electricians.
The unit is the second multimeter in the ennoLogic line of instruments. The eM530S multimeter provides accurate measurement of voltage, current, and resistance. It includes a battery tester with 3 voltage ranges to test batteris under load.
It is designed for use by professional electricians, engineers, technicians and other professionals in the electrical metering, monitoring, maintenance and repair industries, as well as hobbyists.
The new multimeter provides fast response time on a large easy to read LCD display with backlight. Its non-contact voltage detection feature makes it possible to detect power in outlets and power cords without direct contact. The unit is housed in a rugged, ergonomic, and attractive case.
The ennoLogic multimeter is a CAT II and CAT III 600V compliant digital multimeter that is highly accurate, and provides fast readings for many home and automotive uses. It is autoranging and accurately measures AC and DC voltage, AC and DC current, and resistance.
The new digital multimeter can be used in a wide range of applications from trouble-shooting electrical wiring issues, bad switches and outlets to testing of new electrical installations, solar applications and more. In the field, the eM530S provides accurate, reliable measurements, aiding the professional or expert home user to quickly get the information necessary to assess electrical outages, and other problems.
No matter the application, the eM530S provides consistent reliable and easy to read measuring results.
"We're happy to have this new multimeter in our line." says company spokesman, Chris Johnston. "We think professionals and homeowners alike, who rely on high quality instruments in their daily work and home environments will find this meter delivers reliability and trustworthy readings in all of its applications. We are very happy to offer the eM530S as the newest instrument in the ennoLogic line of quality products. We are very pleased with its performance."
The eM530S is available for purchase on Amazon.com and through the ennoLogic.com website. More information about the new multimeter can be found at the ennoLogic website.
Release ID: 130162