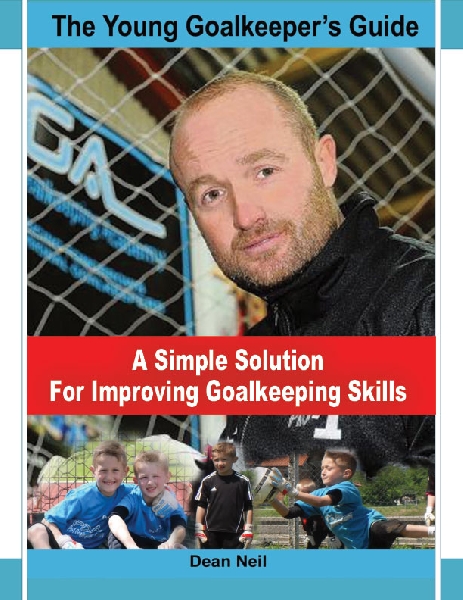 - June 21, 2015 /PressCable/ —
The launch of a new first of its kind eBook to help goalkeepers improve their skills by world class Pro-1 Goalkeeping coach Dean Neil is making public noise in the soccer world facts about "The Young Goalkeepers Guide" is set to go live Tuesday 23rd June at 4pm GMT, which fans and consumers within the soccer/football space will find interesting…
The Three items include nuggets such as the following:
The idea for creating The Young Goalkeepers Guide came about after everybody kept asking the same questions about goalkeeping and there was this autopilot answer which was given and so many people gained benefit.
The Young Goalkeepers Guide has been in development for three months and had a team of two, Dean Neil (professional goalkeeper trainer) & Kardy Laguda (International fitness guru and motivator) working on it, which is considered tiny by industry standards. This goes to show amazing things can happen when two people get together with different skillsets.
An ebook to help goalkeepers improve skills almost didn't see the light of day, when there was not a suitable place to host the site. The problem was overcome by using an existing company that was recommended by a colleague.
Pro-1 Goalkeeping has done something different compared to other businesses in the football/soccer space, by rewarding select customers by placing, on the website the video review and as more come in customers will be given the option to go on the youtube channel.
The Young Goalkeepers Guide will be released as part of Pro-1 Goalkeeping's greater plans to to help as many goalkeepers as possible reach full potential. It's hoped this goal will be achieved by 2016 as more young goalkeepers use the skills taught.
Pro-1 Goalkeeping got it's start when founder, Dean Neil noticed a growing need for a no nonsense approach to increasing goalkeeping skills. With twenty years prior experience in the Soccer world, Neil decided to go ahead and start in 2009 and now the Pro-1 Goalkeeping academy is the only one of its kind in the UK.
Dean Neil is quoted saying: "We like to do things to connect with our players and customers. Things like publishing free help videos on you tube, and releasing these little factoids ahead of the The Young Goalkeepers Guide launch are what make a difference."
The Young Goalkeepers Guide is set to launch Tuesday 23rd June. To get in ahead of the crowds, it's possible to visit http://goalkeepersguide.com
For more facts and further information about Pro-1 Goalkeeping, this can be discovered at http://www.pro-1goalkeepingacademy.com/home
Release ID: 84881