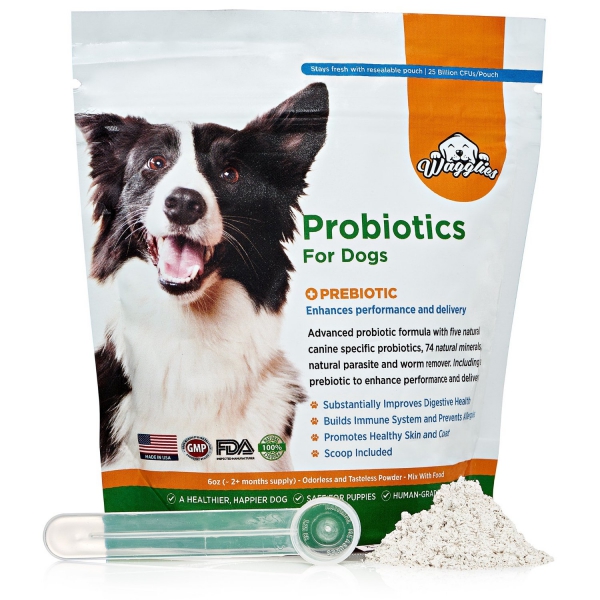 - June 2, 2016 /PressCable/ —
Wagglies' Probiotics for Dogs have now been on sale on Amazon for almost 6 weeks and the brand hope to continue the success that they have seen so far. Today, the brand have received new feedback from their customers.
One customer said that their dog didn't even notice the powder in their food, "…I mix this in with my shepherds food in the mornings and am pleased with the results so far. He doesn't even know it's there because it is odorless and unscented therefore making it tasteless…", whilst another spoke of how Wagglies' dog supplements were less messy than other jar supplements, "I wasn't expecting a lot – as a lot of listings on here are pretty exaggerated and fanciful but these just simply worked. I mixed the powder easily into my puppy's food and I didn't get the stuff everywhere as is so often the case with powder supplements in jars…"
Wagglies' Probiotics for Dogs contain 25 billion CFUs, 74 trace minerals, 5 strains of probiotic and 1 added prebiotic. The prebiotic in Wagglies' powder probiotics acts as an anchor, guiding the probiotics to the areas of the stomach where they will be most effective and enhancing the effectiveness of the probiotics by encouraging the growth of healthy bacteria in the gut and intestines.
"The feedback that we've received from customers so far has been really reassuring." said Dan Clayton, Founder of Wagglies, "We love hearing their feedback as it's what allows us to further refine our products."
Wagglies' dog probiotics are made in small batches in a GMP and FDA approved lab, allowing for better quality control.
"Everything we do is dedicated to our customers and providing them with high quality, great value products." continued Dan, "All of our products are thoroughly tested by our staff before we release them to the public."
Before launching their Probiotics for Dogs onto Amazon in April of this year, Wagglies launched their Puppy Training Pads and Dog Nail Clippers onto both Amazon UK and USA in 2015. The brand hope to continue to grow their range of high quality dog products as they move through 2016 and they hope that their customers will show brand loyalty and continue to try their new items in the range.
Wagglies Probiotics for Dogs are now available in a 6oz bag (∼ 2+ months supply) from Amazon U.S.: http://www.amazon.com/Wagglies-Probiotics-Dogs-Pre…
Release ID: 117566