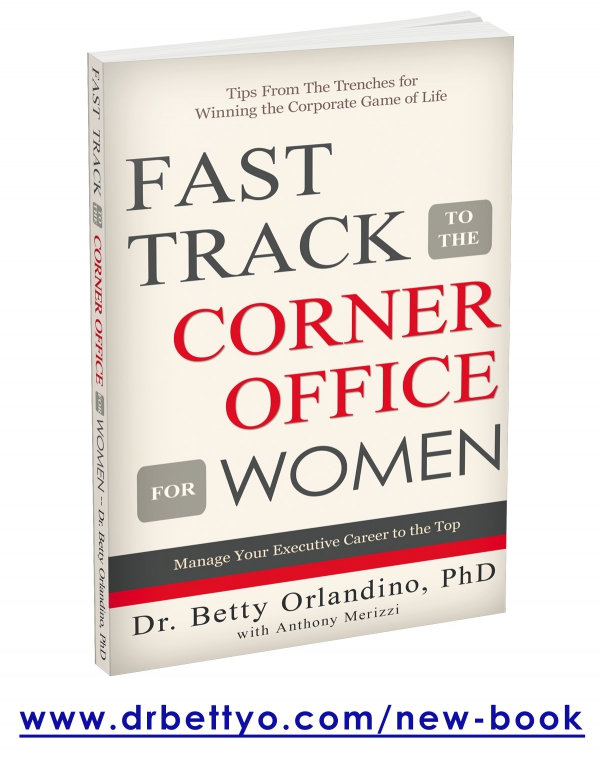 - December 1, 2016 /PressCable/ —
Master Executive Coach and Mentor Dr Betty Orlandino, PhD is launching her brand new book, "Fast Track to the Corner Office for Women". The book is live today, available through Amazon and is expected to become a big hit with fans of women in the business world.
More information on the book can be found here: http://drbettyo.com/new-book
This is the second book Orlandino has authored. The book was written with the aim in mind to to guide executive women to the top of their corporate career as quickly and painlessly as possible. There's also particular excitement about this launch because it reveals the author's insider secrets, refined from over 30 years of VIP access as a coach and mentor to corporate America's top business executives.
Fast Track to the Corner Office for Women sets its main focus on a mix of how-to advice, checklists, and real-life stories going all the way back to JFK and Jackie Kennedy in the 60's, Throughout her book, DrBettyO shows women how to advance and thrive in upper management and CEO positions. Readers will likely find a particular interest in DrBettyO's belief that the battle for equal opportunity and equal pay for women is not yet a victory, and shows what it really takes to advance a woman's career in corporate America and beyond. The book's cover art was created by Anthony Merizzi at 4PlayBooks, and Fast Track to the Corner Office for Women is being released by the author.
Dr Betty Orlandino, PhD has a background with more than 30 years as a master executive coach and mentor to Fortune 500 executives, sports stars and celebrities around the globe. This helped shaped the creation of her book by adding real-life examples and personal insights to bring the book alive.
When asked about why she wrote the book, Orlandino said: "For women in the corporate world, the playing field is still far from being level. I've been an active champion for women's achievements all my life, and want to close that gap of inequality as quickly and surely as possible"
Orlandino has hopes that the book will provide women with a jump-start to their career, in order to have an equal shot at the corner office and move on to the C-suite. This positive outlook from the author is certainly testament to their optimism considering some of the mishaps during its creation. At one point she had been trying to finish the book for years. The challenge was finding the time to organize her thoughts… AND THEN finding the skill to actually write a book she'd want to read herself, while managing her business every day. Unfortunately, her first drafts didn't quite have the life and memorability she was hoping for, and Dr Betty O didn't want to release something she wasn't thrilled with. That's when she brought in her copywriting friend Anthony as co-author, to whip it into shape as the book she's finally proud to put her name on..
In a recent interview, the author made a point of thanking her mom Helen and her daugher Jacki, as well as her mentors Beulah Drom, Sascha, Dr Marilyn Jacobson, Senator Bernard Neistein, her co-author Anthony Merizzi, and especially her dear friend and mentor Bernice Pink for their part in the creation of the book, saying: "I'd especially like to give my deepest, heartfelt thanks to my mentor Bernice Pink, for believing in me, encouraging me, and forcing me to examine things I did not want to look at. I know my life is blessed because of the 25 years you kept a fire lit under me!"
Those interested in learning more about the book can visit here: http://drbettyo.com/new-book
To view details of Dr Betty O's book on video, visit here: https://youtu.be/m5DoSIFJCn4
Release ID: 151058