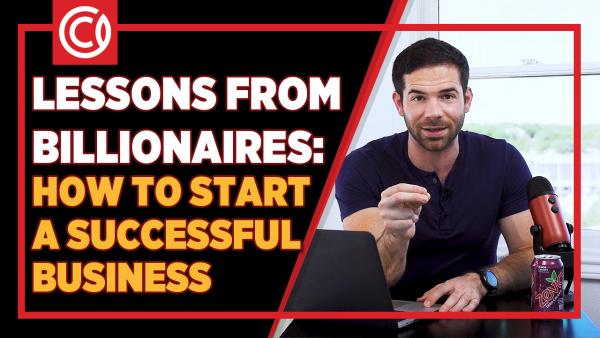 - December 11, 2019 /PressCable/ —
Capitalism.com, an Austin-based media company, reveals a strategy for growing a wildly successful business in its latest episode of CapTV. The episode, "Lessons From Billionaires: How To Start A Successful Business," details how entrepreneurs can tap into the formula that recently made one influencer the world's youngest self-made billionaire.
Jaws dropped around the world when one celebrity signed an exclusive distribution deal with Ulta for her business this past August. While many may chalk her success up to being an internet celebrity from a famous and wealthy family, there is a formula to her success. This episode of CapTV explores the marketing processes of many influencers and uncovers how entrepreneurs can utilize this formula to grow their own businesses.
"With the news about this makeup company's billion-dollar valuation, it is clear that the new business boom is creating product brands to target audiences," said Capitalism.com Founder, Ryan Moran. "I firmly believe that the next young billionaire is Ryan from Ryan's Toy Review on YouTube. This episode of CapTV shows entrepreneurs how they can create wildly successful businesses, even if they aren't internet celebrities."
Available on Capitalism.com's YouTube channel, CapTV episodes focus on promoting the ideals of entrepreneurship and solving global problems. That's what happens when capitalists take ownership of problems they didn't cause, create solutions to those problems, and serve people with those solutions. Moran creates the episodes with empowering and equipping entrepreneurs in mind. Each episode features a different theme, providing politically-driven news and business training that defends the tenants of capitalism, encouraging individuals to consider entrepreneurialism and personal responsibility.
"By refocusing our collective attention to the tenants of capitalism, our goal is to instill an entrepreneurial spirit in current and future generations, and CapTV is a vehicle for us to provide the inspiration and training to meet that goal," said Moran.
From exploring some influencers' rise to success and uncovering the strategy of the next young entrepreneur poised to become a billionaire, in this episode Moran guides viewers to take a different perspective to grow their businesses. While being an internet celebrity isn't a prerequisite for success, modeling the strategies that got them there is.
"The magic formula is when you can bring your audience, profit, and sales channel together," explained Moran. "That's how you build a brand that you can scale. It's about turning your sales into customers."
According to Moran, celebrity influencers' success doesn't come from endorsements or from appearances. It comes from years of building an audience, having a predictable sales channel and creating a product that serves their audiences.
To watch the latest episode of CapTV, visit https://www.capitalism.com/Lessons-From-Billionaires.
About Capitalism.com
Capitalism.com is a media company that exists to equip and empower others to unleash the power of Capitalism so that they can build a business, invest the profits and create the change they want to see in their world. Through free and premium content, community members learn how to take ownership of problems they didn't cause, create real solutions to those problems, and serve people with excellence. Learn more at https://www.capitalism.com/.
Release ID: 88938475