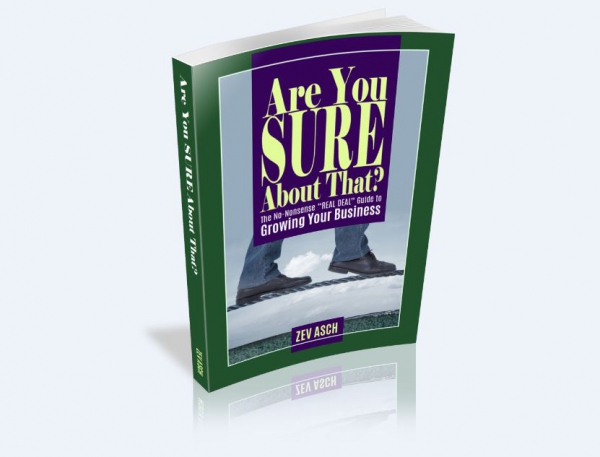 - October 12, 2015 /PressCable/ —
Small business owners are finding genuine inspiration, business management and marketing wisdom in the new book from Zev Asch "Are You Sure About That?" The book delivers its key message of differentiation and urges business owners to question conventional wisdom in a deeply human way with case studies from real businesses in the real world.
More information is available at https://ledaza.leadpages.co/areyousureaboutthat.
Small businesses are the life blood of the US economy with over 28 million small businesses in the USA accounting for 54% of US sales. Small businesses are also the nation's biggest employers providing 55% of all jobs and 66% of net new jobs since the 1960s.
But much of the business and marketing advice small business owners have access to is geared towards larger companies and fails to deliver messages based in the day to day reality of running a small business.
Zev Asch's new book "Are You Sure About That?" is bridging this gap for business owners by giving them a series of vital business management and marketing lessons based around case studies that deliver their message with the raw human emotion of real business that these small business owners are so familiar with.
Zev Asch is a marketing professor at the Touro College Graduate School of Business in New York City who draws on both his 30 years of small business corporate experience XXXXX and as an entrepreneur running his own company. But he's most proud of his heritage being the son of a grocery store owner in Tel Aviv, Israel.
Asch says "Dad was simple and uneducated; he worked from 4am when fresh milk and bread were delivered to 8pm, with a short break for lunch. The grocery store was all we had and his only means of supporting a family. I didn't understand why he cried when a customer berated him for not having a piece of deli meat when she wanted it. I saw him jump on his bicycle, ride for an hour across town, buy the deli meat, climb four flights of stairs, deliver the meat and refuse to accept payment for it. In his world customer satisfaction was the key to his survival. The brutal reality was all any of his customers had to do was walk one block in any direction to find another grocery store."
Asch says "My father was certainly unfamiliar with what we know today as marketing and customer service but he had an intuitive understanding of what 'differentiate or die' really meant. In my book I go out of my way to deliver all my management, marketing, sales and customer service messages in this deeply personal way so they come alive to business owners. I want them to really understand the key messages that are vital for their survival in today's small business economy."
More information on the new book "Are You Sure About That?" is available at the link above.
The book's ISBN is:1943612749
The author is available for interviews and speaking. Contact Zev Asch at: 516.802.7344 or zev@ledaza.com
Release ID: 93505