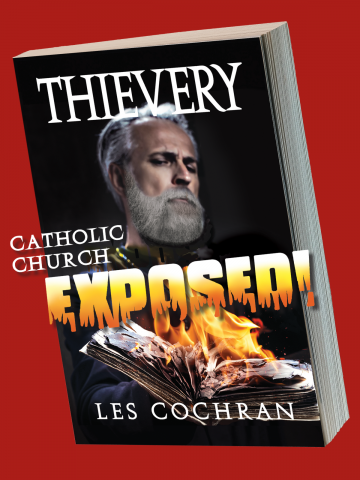 - January 15, 2020 /PressCable/ —
On January 10th, THIEVERY: Catholic Church EXPOSED! stole attention from the sex abuse scandal.
The Kindle edition of THIEVERY ranked #46 on Amazon's Best Seller's category — Religious Studies-Ethics.
The paperback edition came in #50 on Amazon's Best Seller's category — Clergy.
Published in September 2019, by author Les Cochran Website, THIEVERY is based on an analysis of 97 (non-sex abuse) cases of $100,000 or more of theft, embezzlement, and fraud, Amazon Link.
Thievery is escalating at epidemic proportions. Like the sex abuse scandal, the bishops were slow to address what is now the Church's second greatest scandal. THIEVERY documents case after case, where priests and lay workers used thousands of parishioner donations for their own pleasures.
Research projects that as much as $1.2 billion was stolen from the U.S. Catholic Church in 2018 and another $1.3 billion was pilfered in 2019. The number of cases and the amount of dollars has spiraled over the last decade, with an ongoing $5 million case of alleged embezzlement by a priest still in the Michigan courts.
Unfortunately, thievery and sex abuse cohabitate. While THIEVERY is a documentary focused on the various types of theft, there are countless cases where both sex abuse and thievery are present. Both were allowed to cohabitate, commonly feeding off each other.
In thievery cases, priests and members of the laity use funds they'd stolen for their own personal gain and pleasures — living a life of extravagance, gambling, and purchasing sex in one form or another.
In cases of sex abuse, priests used the stolen funds to purchase lavish gifts for their victims, to fund trips to exotic places, and to facilitate their personal interests.
Evidence verifies that countless bishops are negligent; action by many others qualifies them as accomplices. Throughout the years, bishops remained above the fray. They closed the door of secrecy around the dioceses and made sure the "buck stopped there."
THIEVERY documents cases where bishops covered-up crimes and paid-off individuals. It reveals actual cases and the use of secret accounts buried deep in the dioceses' financial records.
The law is abundantly clear about individuals who take such action — an accomplice is a person who actively participates in or has knowledge of a crime, even if they take no part in the actual criminal offense.
THIEVERY calls for reform and offers positive action to fix the problems. THIEVERY is NOT about Catholic bashing; rather, it's a documentary that presents the facts. And the facts, call for reform — actions parishioners, priests, bishops, and the Pope needs to take.
THIEVERY reminds all Catholics, the world's oldest, wealthiest, and most powerful church is NOT infallible!
Release ID: 88942801