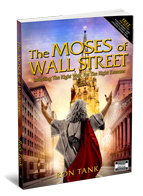 - May 24, 2017 /PressCable/ —
Ron Tank first gained national attention and recognition when he entered his investing results in a contest sponsored by Investor's Business Daily. After submitting his astounding gains, he and his brother Dave were profiled in Investors Business Daily "IBD" (Ron grew his $40k into $2.2 million dollars).
The Moses of Wall Street shares the most important discovery and the most valuable tool Ron has encountered as a full-time investor over the past twenty years. As Ron reveals the foundation for his Triple Tank System, readers will encounter a proven system unlike any other available today. The Moses of Wall Street shares a system that will allows its users to consistently win on Wall Street.
Ron started investing with only a few thousand dollars, turned it into millions, only to almost lose it all. Then God rescued Ron and put him back on the path to living abundantly. How? God revealed a secret in the Bible, hidden in plain sight… the "Decision-Maker DNA™," a simple but powerful system that anyone can implement.
This is Ron's first book. Ron is not an award-winning writer and so the book has flaws, however there are ideas, paragraphs and whole chapters in this book that have never seen written down on paper before! Concepts that could open doors today, or tomorrow, that otherwise may have taken a life-time to walk through and still not uncover!
To celebrate Ron is giving away 100,000 copies of his new book. Simply cover the shipping and Ron will pay for a copy of the Moses of Wall Street book! – Click here now to claim a FREE copy of The MOSES of Wall Street today.
It doesn't matter if the reader is new to investing and has a few thousand dollars to invest or has decades of experience and many millions to invest, all readers will benefit tremendously from Ron's proven strategies and practical wisdom.
"When it comes to investing and our financial house, the Bible is the single most important book we can trust and use." –Ron Tank
About Ron Tank: As a Sunday school teacher and expert investor, Ron offers an extremely unique combination of field-proven strategy, real-life tested biblical advice, and a proven system that investors need to be successful in today's financial markets.
Release ID: 202372