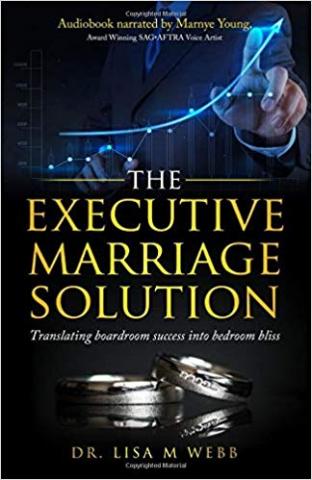 - November 29, 2018 /PressCable/ —
New self-help book by relationship expert Dr. Lisa Webb takes success strategies from executive life and transforms them for relationships.
No one ever said managing a career was easy. Being in a relationship is no joking matter either. Balancing work life and relationships might be quite impossible for many; especially when their work requires a lot of time.
High-ranking successful executives can absolutely have amazing and romantic relationships. However, managing a career and staying in a relationship may be difficult unless you have special secrets to help you accomplish the goal. These secrets are where The Executive Marriage Solution comes in.
The Executive Marriage Solution is a self-help book written by Relationship Expert, business consultant, and Advisor Dr. Lisa M. Webb. It's not just any self-help book, but one packed with loads of secrets you'll hardly find anywhere else to building a long-lasting relationship alongside a successful career.
This book contains details on what can be done to succeed both at home and in the C-suite. It tells you how you can apply corporate strategies which you use in your career to your marriage or relationship life to have a complete balance between both. So, by investing in your relationship the same way you do in your profession, you can learn to have your work and relationship life in perfect sync with each other.
Within the pages of her latest release, The Executive Marriage Solution, Dr. Lisa Webb provides compelling case studies and practical advice and reveals secrets to help you to develop a new approach to manage your career and relationship life. The Executive Marriage Solution launches on November 29th, 2018, and is now available on Amazon: http://a.co/d/65OVIkz
Dr. Lisa M. Webb is an executive relationship expert, business consultant, and trusted advisor with years of experience guiding executives and their partners from divorce court to a new approach for a successful marriage.. She is the CEO of Body & Mind Consulting. Based in Tennessee, Dr. Lisa M. Webb guides executives and their spouses/partners in their effort to reconnect, and is celebrating over twenty years of marriage with her husband. She is also a business consultant, entrepreneur business owner, and licensed clinical psychologist.
View The Executive Marriage Solution on Amazon: http://a.co/d/65OVIkz and the book trailer here: https://www.youtube.com/watch?v=PPcjI9oh9vc.
You can even listen to Dr. Webb on a podcast speaking about her book here: https://www.youtube.com/watch?v=iziiCYLxYPE. Dr. Webb's website is https://executiverelationshipadvisor.com/.
Release ID: 451195